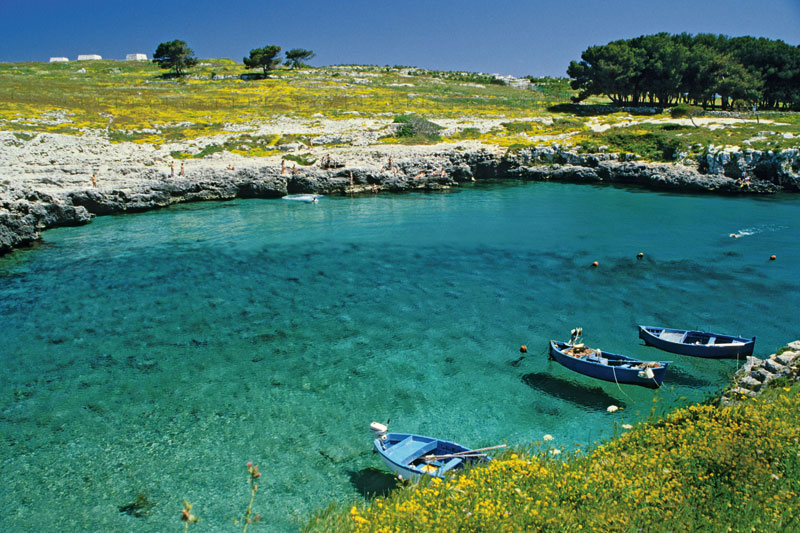 Who needs a refreshing bath into the exceptional beauty of Puglia? We do! Starting in the Gargano with its green wooded hills, white cliffs, sea of  azure crystalline colours, sands and heavenly pebbly coves (Rodi Gaganico, Peschici and Vieste) we will drive down to the coast between Manfredonia and  Bari into the salt pans of the Margherita di Savoia Nature Reserve and after the capital we can visit  Polignano a Mare.
The calling of the south burns: towards Brindisi we can rest on the sandy beaches of Marina di Ostuni and the fabulous Torre Guaceto Nature Reserve, beloved for its Mediterranean maquis, several miles of sandy beach and a protected marine reserve with a superb flock of flamingos!!!
Lecce, the baroque city called "Florence of the South" for its beauty is connected to the Adriatic and to the little town of San Cataldo with its amazing sandy beaches and sea-front nature reserve. Sea-sculpted chalky-white cliffs appear now, incredible transparent waters and spectacular sandy beaches: in one word, welcome to Torre dell'Orso!
Following the coastal road,  we encounter the fortified port town of Otranto, another amazing stop with several beaches. One of them is right in the centre of town!!!
2 miles south at Capo d'Otranto, until the tip of the heel, the Adriatic and the Ionian seas merge at Santa Maria di Leuca: rocky cliffs for a superb panoramic sightseeing.
Heading west, we will meet about 6 kilometres running along Marina di Salve, Marina di Pescoluse and up to Torre Pali. A rocky coastline interrupted only by sand and turquoise waters at Torre Mozza and Marina di Ugento. Puglia is indeed a universe of beaches to discover not to mention the amazing food and hospitality of one of the most sunny and amazing places in Italy!