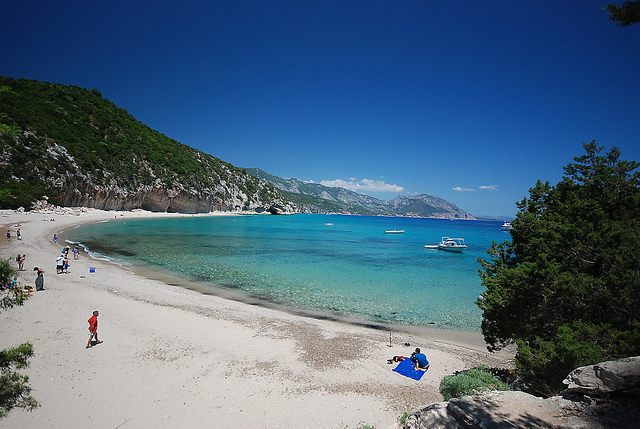 As the weather cools down and winter arrives, take a few moments and imagine the fun of a vacation along the beaches of Sardinia. Warm weather, balmy breezes and the clean water of Italy's finest beaches calls to travelers year-round, and when the cold weather simply becomes too much to bear, plan a trip to Italy and dream of white sands.
La Bombarde Beach
With a name this fantastic, you know you're in for a good time. La Bombarde Beach is actually something of a local secret with a location a bit off the beaten path. Stay in the city of Alghero and skip the touristy beaches on the right side of the city. Instead head to the left where white sands butt up against the evergreen forests creating a stunning environment of sounds, sights and smells.
Poetto Beach
Just outside Cagliari, Poetto Beach is a charming location that is popular with both tourists and locals. Hop on a bus inside the city and you'll soon be at the beach and ready for a full day's adventures in the sun and surf. A strip of land separates the actual beach from the city of Cagliari. This makes it feel like the beach is actually more isolated than it is and eliminates the city noises. If you'd rather stay directly on the beach, there are several hotels and resorts located on Poetto Beach.
Piscinas Dunescala
You'll need a car to properly reach this particular beach. Start out from Arbus on the island and travel along the gravel road to the beaches – a full five miles of uninterrupted white sands. This beach is truly removed from the crush of tourists, and you'll have a chance to see some of nature's most interesting beach animals including sea turtles – especially if you arrive early in the day. Be prepared for a bit of wind on this stretch of beach, but this works to your advantage as well as the tall dunes surround you during your stay.
Cala Luna
On the east coast of Sardinia is the resort town of Cala Gonone. This resort is near Gennargentu National Park which adds a bit of extra wildlife to the visit at times. The cresent shaped beach has been featured in films and is stunning to see with wide strips of white sand and a background of exceptionally tall rocky cliffs. To enjoy the beach, however, you'll be required to climb several miles in and out – this is not a beach for the faint of heart.