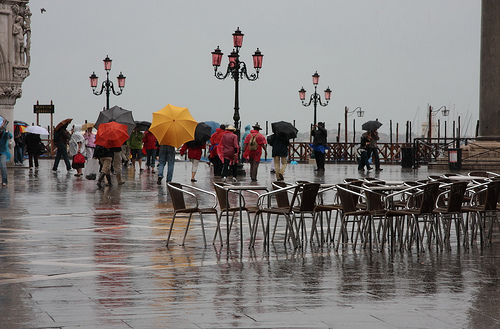 The spring months, especially March, tend to be excessively rainy in Venice. The rain can lead to some flooding even, but the season between Carnivale and Easter is also an excellent time to visit if you're not especially interested in competing with the crowds that appear in Venice most of the year. In fact, the rain can make your stay even more enjoyable if you're prepared for it.
Bring Rain Boots
You're going to be walking throughout the city and you're going to be walking in the rain or possibly even large pools of standing water along some of the roads and in the squares. To be comfortable and avoid dealing with wet footwear every day after being caught in a storm, leave your fancy shoes at home and opt instead for some well cushioned, comfortable rain boots.
If you're able to wear your rain boots every day with your pants and skirts, you'll find it's much easier to move through the city – regardless of the weather – while still leaving your feet nicely supported.
Dress in Layers
When you're preparing for the day ahead, dress in layers so that you can peel away and add to your ensemble as the weather dictates. For example, the mornings may be cool and misty – a light rain jacket over a thin sweater will ensure you feel warm and comfortable. If the sun comes out in the afternoon, the day may heat up considerably. You'll be able to easily remove the jacket and sweater to wear a lightweight shirt underneath in order to stay comfortable.
Dressing in layers also gives you a bit more flexibility with wardrobe choices as many of the layers may not need laundering quite as quickly – an important consideration when staying for more than a few days in an area without laundry facilities nearby.
Ignore the Rain
If you're planning to stay inside every time that it rains, you're going to miss some of the most impressive sights in all of Italy. If it's pouring when you wake up, linger over breakfast perhaps, but then grab a large umbrella, put on your boots and head out into the weather to enjoy what the day brings. You may get a bit damp, but you're walking on paved streets and most of the locations don't require too much time outdoors before you're safely sheltered again.