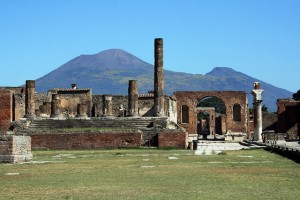 The once thriving town of Pompeii was wiped out completely in a night of violent eruptions, but thanks to the huge amount of ash and soot, the city was preserved for centuries and today it provides one of the best examples of life for an everyday citizen of an Italian city – or at least the best example of what life was like 2,000 years ago.
Prepare for Walking
When you visit Pompeii, bring everything you need for a day on your feet. A bottle of water, a bag that is easy to carry, an umbrella or rain jacket and most importantly, good walking shoes. Pompeii was a large town and after two hundred years of continuous renovations and discoveries, there is more to see in Pompeii than there is time to see it. You should plan on walking everywhere and exploring any number of houses, brothels and baths.
Arrange a Tour
There are many tours in Pompeii, and make it a point to arrange one ahead of time so that you can see everything in the town and get an insider's perspective. If you're hoping to save a bit on this portion of your trip, you can make do with a guide and read as you walk, but with continuous excavations and discoveries, a real tour guide will have more tidbits to share and possibly even know of things to show you that aren't covered in your guide.
Take in the Scenery
To really understand what happened at Pompeii, you need to appreciate the scenery. The beautiful Mount Vesuvius stands proudly over the town, and the people of Pompeii were so comfortable with their mountain they forgot that it was a volcano and could cause problems for them until it was far too late. The beauty of the surrounding countryside is an excellent testament to how easy it is to forget that you're walking in the shadow of a giant volcano with every step you take.
Prepare for Crowds
There aren't really any off days for Pompeii in terms of tourism, but the summer is definitely the most crowded time of year. As you set off on a day trip to Pompeii, be sure to plan for the crowds and to bring a bit of patience and understanding with you. There are amazing sites in the city, but many small doorways to navigate – being prepared for the crowds there looking with you will make the day that much more enjoyable for everyone.