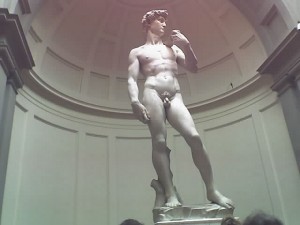 Long recognized as one of the most prominent artists of Italy, the work of Michelangelo Buonarotti is found throughout Tuscany and predominately in Florence. Michelangelo was born in Tuscany and true to his roots; he was raised in Tuscany and stayed true to his roots by working in the area and helping the city collect a regular treasure trove of amazing art pieces.
Florence and Michelangelo
Today you can see a huge assortment of items from Michelangelo during your visit to Florence and the surrounding areas.
Galleria dell'Accademia
Inside the gallery, you'll find the original David sculpture, which is considered to be one of the most impressive works of art by Michelangelo. While the original stands inside the Galleria dell'Accademia, you can find impressive copies of the statue in front of the Pallazzo Vecchio, where the original once stood, as well as in the center of Piazzale Michelangelo, a picturesque square named for the work of the artist. While inside the gallery, you can also see "The Four Prisoners" and a statue of Saint Matthew designed by Michelangelo.
Museo Nazionale del Bargello
In the impressive museum for sculpture, you'll find a nice assortment of Michelangelo's sculptures as well. One of these is the Roman god of wine, Bacchus, decorated with grape vines and holding up a chalice. Another version of David, the "David Apollo" is found in the museum as well as a relief sculpture of the Virgin Mary and Jesus and a bust of Brutus. While just four of a great many statues inside the museum, they are certainly an impressive few.
Museo dell'Opera del Duomo
In the Museum of the Duomo, you can expect to find many prized treasures of the Renaissance, and among them is another sculpture by Michelangelo. The statue, The Deposition, shows Christ following his death being held by the Virgin Mary, Mary Magdalene and Nicodemus. There is a more famous Pieta, by Michelangelo, but that statue is located and on display in Rome.
Casa Buonarotti
In Michelangelo's home, a small museum holds several sculptures by the master as well as some drawings. Two of Michelangelo's early relief sculptures are present in the home, the Battle of the Centaurs and the Madonna of the Stairs.
Palazzo Vecchio
Finally, in the City Hall of Florence, Michelangelo's sculpture, "The Genius of Victory" is found. There should be another work by Michelangelo in this building, the "Battle of Cascina", but the painting was either never started or have been lost through the ages.