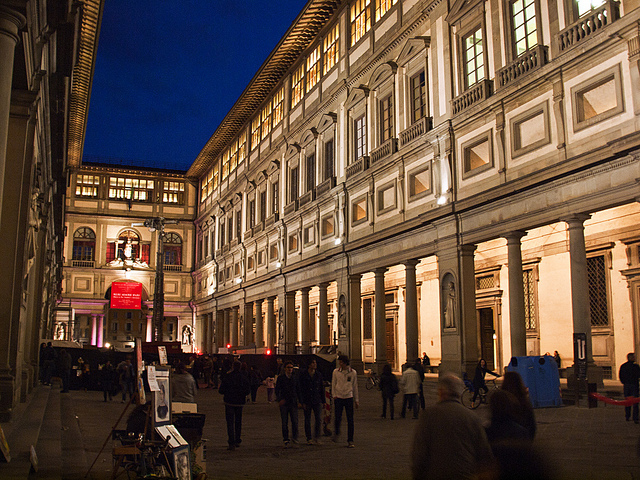 One of the most celebrated museums in Italy, the Uffizi Gallery in Florence is home to many amazing works of art from some of the most celebrated artists in the world. Inside the museum you'll find works from Botticelli including the Birth of Venus as well as da Vinci's Annunciation. Michelangelo, Titian and Raphael have works represented in the museums as well. The trick isn't finding amazing works of art, the trick is finding a way into the museum that doesn't involve standing in line for hours at a time.
Touring the Uffizi Gallery
Gaining access to the gallery is simple enough – if you're patient. Lines extend out from the entrance and regardless of the weather you're left to the elements for long periods of time waiting on your turn to tour the halls and exhibits. For this reason, it's best to make advanced reservations for the gallery. You can order your tickets ahead of time online or over the phone and skip the long waits at least. Plan on spending almost the whole day at the museum, however, as it's full of rich and impressive artistic history.
Inside Uffizi Gallery
Once you've gained admittance to the gallery, you'll find the art is arranged in sequence. As you move through the halls and rooms, you'll follow a time-line of man-made wonders that help you see and experience the evolution of Renaissance artwork and styles. The Medici family created the original collection of art that is now displayed within the walls of the Uffizi. In fact, the family was responsible for creating the original building as well. It was built to house government offices in the mid-1550's.
For more than two hundred years, the Medici family continued to add to the art collection. Each generation found additional items to help the collection grow into the impressive array it is today. As the art collection grew, it slowly dominated the administration building until there was more art than offices. In 1737, the final member of the Medici family bequeathed the entire collection of art to the public to enjoy, and the museum we all enjoy and love today was officially born.
The Uffizi is located in Florence and tickets to the gallery are available for a total of close to 20 pounds once you've taken all of the necessary fees into account. If you're not comfortable exploring the large gallery on your own, consider taking advantage of a private tour as you move through the exhibits.