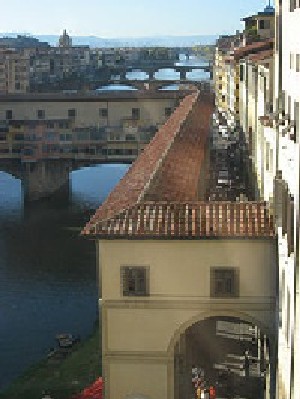 Giorgio Vasari was a painter, an architect and a biographer. He was born in Arezzo and did apprenticeships in Florence, in the circle of Andrea del Sarto. He spent his life as a painter in Florence and Rome where he studied the methods of the basic technique of Mannerist painting.
After a period spent in Rome, Vasari returned to Florence, where, under the protection of Cosimo de Medici, he was given the task to build the Uffizi (1560) and the Vasari Corridor. His most important paintings (the tunnels and the frescoes of Palazzo Vecchio)are also located in Florence. He was the first major collector of portraits, whcich were also used as research material for his biographies. In 1561 he founded the Accademia dei Ritratti.
He died in Florence in 1574.

A way in the air passes through the heart of the city, connecting the Palazzo Vecchio with the Pitti Palace. The Grand Duke Cosimo I wanted it for the wedding of his son Francesco with Giovanna d'Austria. Although Giorgio Vasari thought that it would take five years, the corridor was completed in a very short time, in just five months, from the spring to the autumn 1565.
It was the symbol of the absolute power of the Grand Ducal family, and a quick connection system between the private and political seats of the court, in urgent cases, such as sieges, plagues, floods.
Via the roof deck, about three meters and a half wide, and nearly one kilometer long, it didn't have to touch the ground and therefore was raised by a mighty arched construction.
But, despite what everyone thinks, the corridor wasn't planned as a secret passage. It stands on the Via della Ninna, overlooks the shops of Ponte Vecchio, pokes around the Mannelli tower, overlooks the church of S. Felicita, through the houses of Guicciardini, touches the Boboli Garden and finally joins the new ducal residence.
It was a way to have admiration and to promote a wonder feeling thanks to its daring conceptual and technological.
At any time, day or night, in fact, the Florentines were aware the protective or intimidating gaze of the prince was laid on them from the windows above the arches.
Now, after further restoration, it has reopened to visitors only by appointment.
The gallery in the Corridor.
The gallery ranges from paintings, Italian and foreign masterpieces of the seventeenth century and eighteenth century, the famous collection of self-portraits – the largest collection in the world – began in the seventeenth century thanks to Cardinal Leopoldo de 'Medici. The gallery is still growing thanks to frequent acquisitions.
Visitors can admire selfportraits of: Pieter Paul Rubens, Andrea del Sarto,
Lyss, Forabosco, Van Laes (Il Bamboccio), Cavallino, Salvator Rosa, Caracciolo, Magnasco, Boucher, La Hyre and Chagall.
For accommodation facilities click here.