The Wedding Day is one of the most beautiful days in life. Then, why not celebrate it in one of the most beautiful frames that Mother Nature has created?: The island of Capri, with its myths, its traditions and all the charm that only the Mediterranean culture has to offer.
Capri is one of the most spectacular place to organize a wedding. It is an enchanted island, a paradise for romantics.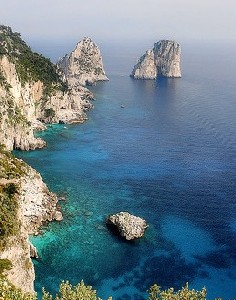 The Municipality of Capri is located in the little square now famous throughout the world.
The Isle of Capri is the jewel of the Gulf of Naples, famous worldwide for the Grotta Azzurra (Bleu Grotto), the 3 Faraglioni, the beautiful flora and the climate delightful in all seasons.
When one first arrives in the port one can see immediately that this was once a place where fishermen worked and can still imagine the smell of fish, but nowadays it is also full of shops and typical restaurants.
Getting on the funicular one can reach the little square… and that is a true living room of elegance and refinement.
Celebrating a wedding in Capri is a ceremony unique and original in the 'island of the sirens ", where the extraordinary beauty of nature creates a magic dream …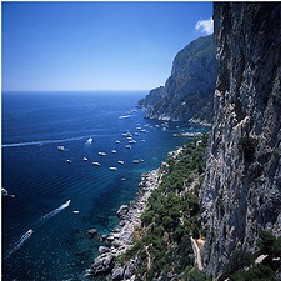 Already chosen as residence by the Roman Emperor Tiberius, in the course of centuries it has been invaded and fought over for its beauty and its strategic position. The towns of Capri and Anacapri rose above hills to better defend themselves. The multitude of architectural and landscape beauties is very impressive. Not to be missed: Villa Jovis with the splendid view, the Certosa di San Giacomo with a beautiful cloister, Marina Piccola, the beautiful Byzantine church of St Costanzo, the Villa San Michele, residence of Axel Munthe, the natural arch and the famous Blue Grotto.
But it is the pristine fragrance of flowers, the delicate combination of colours that bear witness of an ancient past, the natural beauty and the feeling of peace interrupted only by the seagulls. This is 'the magical atmosphere that can' accompany a wedding and make it vibrant with emotions and afterwards with wonderful memories.
For Accommodation Facilities on The Isle of capri Clich here.