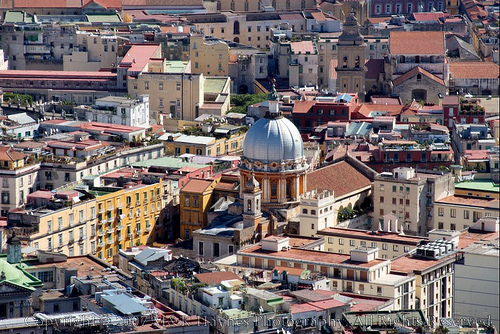 Naples is the heart of the Campania region of Italy, and it is here that locals will remind you pizza, spaghetti and buffalo mozzarella originated. These delicious treats are just the beginning of the local fare, however. A trip to Naples is a trip sorted with history. Two centuries ago the port city was a bustling location and a hot spot for the aristocrats to vacation. Many went on from Naples to Capri, another famous location in Campania.
But Naples fell into disfavor in Italy as a desired destination after the Unification in 1870. For a century, the city was shunned by tourists and discerning visitors, but locals took the problem in hand in the 1990s and revitalized the entire downtown centers of the city to again make it a wonderful place to visit. Granted, as is the case with many port cities, there are neighborhoods that might be best unvisited by foreigners, but with so much color, life and personalities, Naples is definitely worth a stop as you tour Italy.

In the city of Naples, you'll find lively people, delicious food and perhaps a few reminders of one famous resident – Sofia Loren. But there is culture outside of movie stars here as well. Ornate Baroque churches, a breathtaking Royal Palace, interesting museums and even two fortresses are among the many things to see and do in this town.
When you've seen the sights of the city and are ready for a true adventure, head out along the coast to discover the scariest road in Italy while visiting some of the most picturesque cities such as Sorrento, Positano and Vietri. The island of Capri, known for its spa treatment and relaxation is easily reached by boat from Naples, and you can take a similar boat along the coast to visit cities if you're not interested in driving the winding cliff roads.
If you can, drive past Salerno to the most beautiful beaches in Italy. These beaches and ocean scenes are far more breathtaking than the Amalfi Coast, and a trip to the Palinuro cape is a true seaside experience you won't soon forget. Regrettably, many tourists don't make it this far, but for those that do, there is terrific beauty to be had while surrounded by the warm and enthusiastic locals.