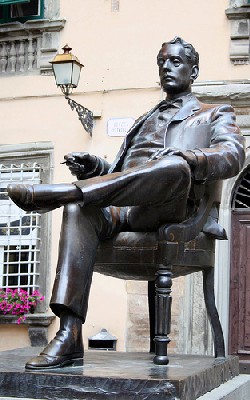 The Puccini Festival is held in Torre del Lago Puccini on the shores of Lake Massaciuccoli, in Tuscany, in the town of Viareggio.
About 80 km far from Florence, 25 km away from Lucca and only 30 minutes from  Pisa international airport
Each year the Festival hosts 40,000 spectators in the Outdoor Theater, a short walk from the Villa Mausoleum where the Maestro Giacomo Puccini lived and worked and where now, in a small room converted into a chapel, his remains are kept.
Torre del Lago is a popular destination for opera and music lovers and for tourists wishing to visit the places of the most popular composer of the twentieth century.
The Puccini Festival of Torre del Lago is the only festival in the world entirely dedicated to the music of Giacomo Puccini.
PROGRAM of the 55th PUCCINI FESTIVAL 2009
Concerts
Saturday, July 4
GALA LIRICO
Director Alberto Veronesi
 
Opera
LA BOHEME
Friday 10, Wednesday 15, Sunday 19 July (Director Placido Domingo)
Saturday 1, Sunday 14, Friday 21 August
 
TOSCA
(New Production)
Saturday 11 Friday 17 Sunday 26 July
Sunday 9, Thursday 20 August
TURANDOT
Saturday 18, Saturday 25, Friday 31 July,
Friday 7, Saturday 22 August
MANON LESCAUT
(Co-production with Theater de l'Opera de Nice)
Sunday 2, Saturday 8, Thursday 13 August
Ballet
LAKE OF THE CIGNI
Moscow Ballet
Puccini Festival Orchestra
August 12
GISELLE
Moscow Ballet
Puccini Festival Orchestra
August 19
Prices from € 33,00 to € 160,00.
 
Gala Dinner with the Artists
Friday July 10, Saturday July 11, Saturday July 18, Sunday August 2.
It is possible to have dinner in the company of artists after the premiere of each work.
The reception will take place in the private garden of the Villa Caproni Taliedo, home of the Puccini Festival Foundation.
The fee is 65.00 Euro per person.
The reservation is compulsory and must be agreed with the ticket office at least 30 days before the performance.
Ticket Office
Viale Giacomo Puccini, 257A
55048 Torre del Lago Puccini (LU)
Phone +39 0584 359322
Fax +39 0584 350277
e-mail: ticketoffice@puccinifestival.it
Click here for accommodation facilities.