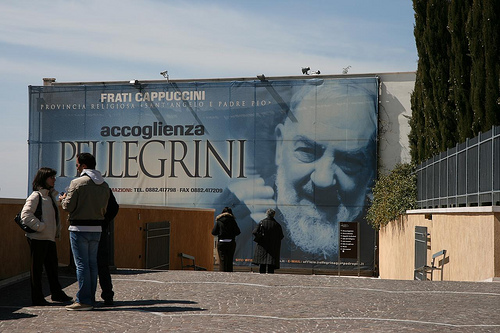 San Giovanni Rotondo is a town of 26,442 inhabitants in the province of Foggia. It is part of the Gargano National Park.
San Giovanni Rotondo was the city of Saint Pio of Pietrelcina.
The Padre Pio Pilgrimage Church was built to honour the Saint in 2004.
The city is also famous for being a hospital and a medical research center among the most important in Southern Italy. The name suggests a peculiar and loving approach to the disease. san-rotondoIt was called Casa Sollievo della Sofferenza (Home for the Relief of the Suffering) and was personally founded by the Saint.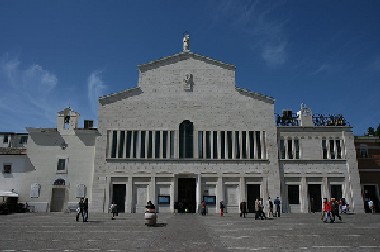 A strange little town. The activities of a commercial-tourism have strangely little relevance, and this means that the center of the city is only marginally affected by the great flow of tourists due to the cult of Saint Pio, which is consumed almost exclusively around the area of the Convent.
It is a city where the devotion to the Saint and the hospital seem to be the equally and intimately related players.
The new huge spectacular church designed by Renzo Piano, one of the greatest Italian architects, can accommodate up to 7000 pilgrims and with its 6000 meters it is the second largest church in Italy in size, second only to the Basilica of Saint Pietro in Vaticano.
The crypt of St. Pio of Pietrelcina is located under the old church. He was buried under a 3 tons monolithic block of green marble Labrador shaped as a sarcophagus.
Saint Pio , also known as Father Pio was born in Pietrelcina the May 25, 1887 and died in San Giovanni Rotondo September 23, 1968.
In May 2, 1999 he was beatified in St. Peter's Square in Rome and in June 16, 2002 Padre Pio was solemnly canonized by John Paul II. Since then everyone could address him as Saint, even though for the inhabitants of San Giovanni Rotondo he had become Saint since the very first day he moved there, becoming part of their lives and their history. It was July 28, 1916.
In April 24, 2008 in San Giovanni Rotondo, the body of Father Pio was exhibited in a glass display case and he will remain visible until September 2009.
For more information to visit it please chick here.