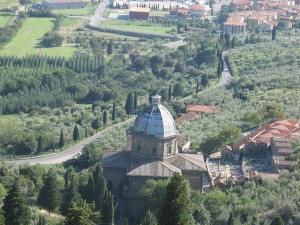 Anyone who has watched Under the Tuscan Sun is already familiar with Cortona. The Tuscan town is featured in the movie, and the actual town is just as interesting and beautiful in real life as it is in the book or movie. One of the oldest hill towns in Tuscany, you'll certainly not be disappointed as you tour this beautiful city and its surrounding areas as well.
Touring Cortona
As you enter the city of Cortona, you'll be immediately faced with some of the most important history of the town. The town walls are older than the Roman Empire, dating back to the Etruscans. These ancient walls are not the only Etruscan treasures in the town. Just getting into the city will bring you pasta series of Etruscan tombs.
Situated on the top of a hill, you'll pass the Melone tombs as well as many others. The closer you get to the top of the hill and the actual city, the more modern the architecture – if you consider large Renaissance churches to be modern architecture, that is. The Renaissance Church of Santa Maria delle Grazie al Calcinaio will greet you on the way into the city.
Landmarks in Cortona
Once you're inside the city, you can enjoy numerous sites including the Piazza della Republica. In the main square, you'll find a town hall dating back to the 13th century as well as numerous cafes. As Cortona is a major ex-pat center, you'll hear plenty of English being spoken throughout this piazza as well.
The Duomo of Cortona was built on the site of an ancient Etruscan temple. The architecture of the large church dates back to the 11th century and inside the building, you'll be able to to view artwork from the 16th and 17th centuries. If you enjoy paintings and artifacts, you can find even more in Museo dell' Accademia Etrusca.
The museum along with the nearby Museo Diocesano holds artifacts of the ancient times in the city including Etruscan artifacts, a Roman sarcophagus, remains of the old Roman civilization in the city and even a small Egyptian exhibit.
Finally, just walking around in the city of Cortona will bring you face-to-face with some of the most impressive landmarks in the region – those large sections of ancient walls. Simply walking down the street lets you imagine what life would have been like thousands of years ago – an amazing experience.