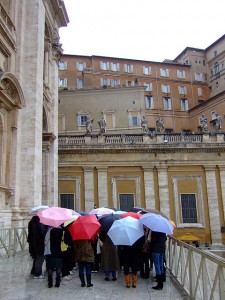 Who wouldn't love to travel to Italy in the early months of summer when the green is on the vines and the air is warm and soft? But the summer months aren't the only time that makes sense for a trip to Italy. In fact, you can enjoy Italy in any season, and the least traveled seasons are often the most interesting and unique as well.
Italy in the Summer
The summer months are the high season for Italy trips. Tourists love the cities and the warm press of body combined with the heat that increases as the summer wears on makes Italy rather hot and crowded. Of course, for many of us, this is the best time to travels imply because we have the most time available. The museums are open longer hours, too and the days are longer overall giving you more time to actually enjoy the city while you're there.
Italy in the Fall
The early fall months are among the best times to travel to Italy. The weather is just cooling off, the rain and fog of winter isn't here yet and the days are still just a bit longer than you'd find in the spring. Traveling in the fall is also nice because most families are back at work getting settled into new school years making the fall one of the least crowded times to enjoy the city.
Italy in the Winter
The winter may seem like one of the hardest times to travel, but if you can make it to Italy in the winter months, you'll be able to enjoy the holiday season throughout the cities and towns as well as the least crowded conditions in the cities for main attractions. The southern and central cities won't have snow, but they will be cold and wet – a nice jacket and umbrella solves most of this problem. The northern cities of Italy will have snow, and some of the best skiing in the world is in the Italian Alps.
Italy in the Spring
As the weather begins to warm, the wet weather of Italy sets in. The spring is a popular time to visit, but the earlier in the season you're able to get to Italy, the less crowded your conditions will be. Going in early March, for example, will have far favorable crowd conditions than late April or May, but the weather will still be a bit chilly at times and you'll need to bring a raincoat as the fall weather can be a bit damp. Overall, however, many feel that the spring, like the fall, is one of the best balancing acts you can have for traveling to Italy. Not-unpleasant weather and not-unpleasant crowds, even in the museums aren't open quite as late in the day.