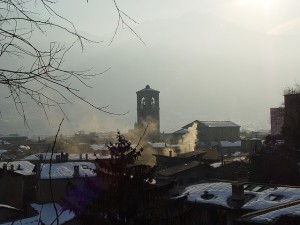 As you try to plan your trip to Italy, you're likely facing the same sorts of decisions so many have faced before – when is the best time to go to Italy? The answer to such a seemingly simple question is actually rather complicated. The short answer is, it depends. The longer answer is that the best time for you to go to Italy is when you'll find the most favorable conditions.
There is a time when the weather is outstanding and there is a time when the weather is terrible. There is a time when there are huge amounts of tourists and consequently high prices thanks to demand, and there is a time when prices are lower and the crowds thinner. As you've likely guessed, the worse the weather, the smaller the crowd and lower the prices – but is that really the best time for your trip?
The High Season
The best weather for traveling in Italy can be found during the high season. This season extends from April until mid-July and some consider September and October to be a small high season as well. The weather is warm, almost hot, and the daylight expands on and on. It's not sweltering, however, as it is in August or early September, but with this beautiful weather come the crowds and higher prices.
Generally the only prices that rise during the high season are the prices for hotel rooms and the cost of your airfare. Hotels have their highest rates from early April until mid-July, and most leave the rates very high through October as well to accommodate the second wave of tourists that come in just as the fall weather is taking the edge off the heat. You may be able to score a discount at the very beginning and the very end of the high season – early April or late October.
The Low Season
The colder, wetter months of the year are considered the low season. These extend from November through March, when the weather begins to warm up. The good news is that there are just as many great sights and museums open during the late fall and winter as the summer, and the lines are much, much shorter. The museum hours might be shortened, however, for the season, so be sure to check the schedules before making your plans.
With the much smaller crowds and the significantly reduced hotel room rates, you can have the same holiday for much less in the winter or early spring, just be sure to bring along some rainboots and a good jacket.