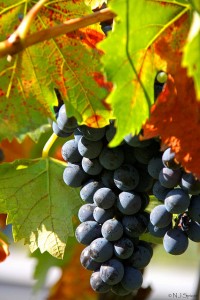 You'll find outstanding wineries and vineyards all over Italy, so you're able to enjoy wine and the invigorating environment of a winery no matter where you find yourself on your Italian adventures.
Latium – Just outside of Rome, you'll find a rather large selection of vineyards producing white wines. The Malvasia and Trebbiano grapes are the basis of most wines in the region, and you can see the wine production in action at Fontana Candida just southwest of Rome or at Gotto D'Oro-Cantina Sociale di Marino.
Tuscany – In both Tuscany and Umbria, you'll find many of the most scenic vineyards in Italy. These vineyards are attractive both in the growing season and in the winter months when you can see the rolling hills covered in frost at times. Here you'll find the most famous type of wine in Italy, chianti, which is produced in Tuscany. Very nearby in Umbria you'll find Orvieto and Torgiano, a white and red wine respectively. Among the best wineries to visit in the area, take a tour of Banfi or Biondi-Savnti near Siena.
Emilia – Romagna – Centered around Bologna, this is the heart of Italian foods and the wine produced is considered especially worthy of the fine dining. The most famous wine in this region is Lambrusco. Cantine Romagnoli is an excellent winery to visit to see some of the 50 million bottles of Lambrusco produced every year.
Veneto – In the Po Valley, you'll find a wide selection of wines ranging from a soft-white Soaves to red merlots. There are dozens of wine producers in this region, but the largest and most interesting to visit is perhaps Azienda Vinicola Fratelli Fabiano which is located very near Verona. Nino Franco is also worthy of a visit where you can see sparkling prosecco created.
Trentino – Alto Adige – An important wine producing area in the northwest corner of Italy, the Alto Adige, is almost more Austrian or German than Italian. The Italian wine, Gewürztraminers, sounds and tastes much more like something you'd expect to find in Germany or Austria than in Italy. Alois Lageder or Schloss Turmhof are both excellent wineries to visit in the region.
Lombardy – Also in the Po Valley, these flat vistas and fertile soil are home to wineries around Lombardy as well. Here you'll find a range of winds with dry reds and sparkling whites. Take a tour of Guido Berlucchi and experience for yourself the wide range of wines available.