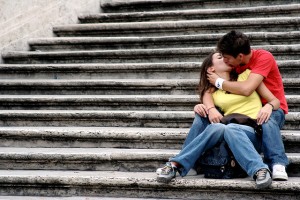 The culture and history of Italy is enough to impress anyone, so it's only natural to think of Italy when you're looking for a romantic destination. Whether you're heading to Italy for a honeymoon or a special trip together any other time, you'll find some of the world's most romantic spots in Italy.
Rome
Called the Eternal City, Rome is a city that is rich with history and heritage. With the adventures appearing around every corner, you can find plenty of romance in this ancient city. Stay in a posh hotel or a small bed and breakfast. Stop for romantic coffee breaks as you stroll between some of the most impressive treasures in the world. Walk through the markets of Rome together and find treasures. Who knows, you might even find a special ring you can use to mark the significance of your time together.
With fine dining and outstanding entertainment, you'll find amazing opportunities for ways to spend your evenings together in Rome. Dress for dinner and enjoy course after course of rich foods and fine wines. Take a stroll through the city or grab a ride in a taxi to admire many of the most impressive landmarks as they are lit and beautiful in the evening hours.
Venice
The Timeless City, Venice has much to offer the romantics. The city has countless treasures hanging in museums and in the piazzas and squares. Snuggle with your loved one in a gondola as you are poled around the city. Eat at some of the most delicious restaurants in the world and simply take in the atmosphere of the city. Walk through the city of Venice at sunset and stop on a bridge to admire to sunset across the water, or climb up into one of the more magnificent towers and enjoy the view.
Romance waits for you outside of the cities in the vineyards and wineries of Tuscany. Stay in a quaint bed and breakfast or rent a villa of your own and find every opportunity to simply soak up the Italian sunshine and breathe in the sweet, fresh air of the vineyards. Tour the wineries and enjoy plenty of samples. Head out on hikes and long walks through the countryside and discover ancient ruins alongside cultivated fields and breathtaking scenery. Best of all, simply combine the city and the countryside on your trip to experience the best Italy has to offer.