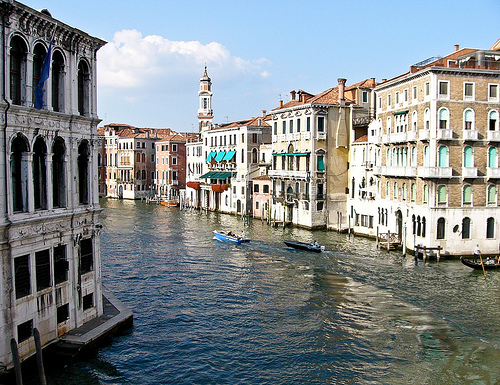 As is the case in most Italian cities, you easily have more to see in Venice than you'll have time for – especially if you make it a point to simply enjoy the ambiance of the city and wander the streets looking for your own treasures. But as far as the most notable aspects of the city, there are certainly some you'll want to include on your list.
Piazza San Marco or St. Mark's Square
Often the first stop for tourists, St. Mark's Square is home to many other attractions including St. Mark's Cathedral, The Doge's Palace, the Campanile and a healthy dose of museums. All of these attractions are definitely worth a visit – be sure to check the hours and days the sites are open, however as only the square is open all day, all year. Being close to sea level, St. Mark's Square is prone to flooding in the winter and early spring during high tide.
The Grand Canal
The two-mile stretch of water down the center of the city of Venice is lined with the homes of wealthy seafaring merchants from days gone past. The Vaperetto offers a terrific tour of the canal during both the day and the night and you should enjoy both to truly appreciate the grandeur of the Grand Canal. If you're not able to travel the canal, at least stand on the Rialto Bridge to enjoy the land-based sights of the canal. The bridge is also the center for much of the marketing activity in the city, so there is much there to enjoy as well.

The Islands of Venice
A short distance from Venice you'll find two islands both famous for their wares. On Murano, you'll find much of the world-famous glass blowing and sculpture. The Museo del Vetro on the island will give you much information about the art and allow you to see some of the artisans in action. Burano, the other island just beyond Venice, is famous for its lace-making. There are many varieties of lace available on Burano, and the lace shops are open daily excluding Sunday.
Gallerie dell'Accademia
The Gallerie dell'Accademia houses a fine collection of works by Venetian artists spanning the history of Venice. Many works by the old Venetian masters can be found here, and the museum is popular with tourists and residents. Be sure to reserve tickets in advance.