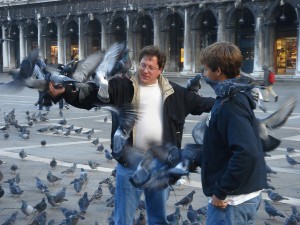 Easily the top destination for travelers to Venice, St. Mark's Square is in the heart of the city and is truly a memorable site. The square is framed by three arcades along the sides, and the open side is home to St. Mark's Cathedral. The cathedral is on the eastern end of the square. While the church is a huge attraction for tourists in its own right, spending the morning in St. Mark's Square is an adventure in a class of its own.
St. Mark's Square or Piazza San Marco
It's lovely any time of the year, although it does get a bit dreary in the early spring and winter, the square is often considered the center of Italy, or at least Venice, and it's usually crowded with tourists. Tourists aren't the only one fighting for space around the piazza, pigeons have made a home there in large numbers as well. When walking through the square, be ready to do battle at times with the huge number of pigeons who make their home (and deposits) there.
Unlike many attractions in Venice, St. Mark's square is free. It's open from 10 a.m. until 5 p.m. all days by Sunday. On Sunday, the square is open only in the afternoon from 2 until 5 p.m. Inside the square, you have any number of activities to consider. You can visit St. Mark's Church or venture into the Doge's palace. The bell tower in the square is open to the public as well, and once you reach the top, you're rewarded with spectacular views of Venice – especially on a clear day.
Enjoying a Leisurely Afternoon
When staying in St. Mark's Square, you should plan on a leisurely visit. It's hard to not feel the press of time and bodies with the crowds in this immensely popular location, but as much as you can, just relax and enjoy yourself. Pace yourself through the church and other attractions in the square and then take a break before you exhaust yourself climbing the stairs for the tower.
When you're finished with the buildings and ready to take another break, St. Mark's Square is an excellent place for people watching. The two caffes in the square are very expensive as they are designed for tourist dollars, but grabbing a cup of coffee won't break the bank and it will let you enjoy a seat on the patio near the orchestra featured in the square. If you don't want to visit the caffes, buy a bag of corn and feed the pigeons. Many of the most famous pictures of Venice feature the birds on outstretched arms and even heads.