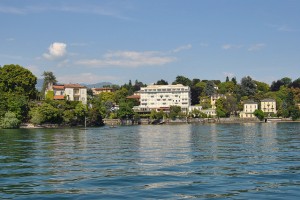 There's a world of difference between those traveling to Italy with a backpack, camera and a handful of money, and those who are looking for a true luxury Italian experience. If you're inclined to visit Italy, but you're more interested in a luxury resort and spa than youth hostels or quaint bed and breakfasts, you're in luck. Fortunately, Italy has some of the most impressive resorts in the world.
Grand Hotel Majestic in Verbania Pallenza
In the Piedmonts, Grand Hotel Majestic is beautifully located on the banks of the majestic Lake Maggiore. The Grand Hotel was built in 1870 and has been dazzling visitors ever since. Stately columns and covered terraces provide plenty of shade while you sit back on the beautifully appointed furniture to enjoy the magnificent lake views.  With two restaurants, you can sit back and dine in luxury, still surrounded by the views thanks to the large plate windows.
Guests of the Grand Hotel are able to enjoy fine dining, impeccable accommodations and even limousine service to the many fine private beaches that surround the lake. Beautiful in the summer months or in any season, the Grand Hotel has everything you need for an amazing escape into the true beauty of Italy.
Hotel Milano Alpen Resort
At the far north section of Italy, you'll find a treat unlike any in the world. The Hotel Milano Alpen Resort is almost the opposite of the Grand Hotel while still retaining its luxurious standard. Wood and contemporary lines complement the rustic charms of an Alpine lodge, which is all very well since the Hotel Milano is situated in the Italian Alps.
Most popular in the winter months, the Hotel Milano is an ideal location for those looking to venture out into the fragile beauty of an Italian winter. Snow and ice make the mountains and the surrounding areas impressive, but the hotel itself is warm and welcoming with cozy, contemporary rooms and impressive spaces for hearty meals, luxury dining and more than a few top choices of Italian wines and spirits.
There are many ways to visit Italy, but once you've seen the sites of the big towns, break away and head north into the resort country. Winter or summer, Italy will certainly have a beautiful resort ready to welcome you with grace and style.