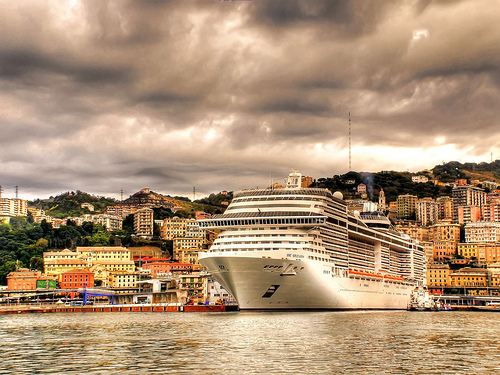 Increasingly popular, cruising around the Mediterranean is a wonderful way to experience a lot of Italy in a relatively short period of time. When taking a cruise, you'll fly into a seaport town along the Mediterranean and load up onto the ship. You'll then stop at various destinations around the major cities of Italy giving you time to tour Rome, Florence and Venice along with many other smaller destinations along the coast.
Advantages of Italian Cruises
When taking an Italian cruise, you'll be able to leave your luggage in a single location throughout the trip and not have to worry about packing up and moving night after night as you move around the cities and towns. You'll also be immersed with much of the fine Italian food and wine while onboard the ship but have the option as well to try the local restaurants as you visit each city. A cruise that takes just five days can let you experience up to three major cities in Italy and see much of the coastline as well without finding your own guides or traveling on a bus for any extended period of time.
It's easy to get around the country and there are organized excursions that leave from the ship that make planning simple. Cruising is a great way to explore the country for beginning travelers who enjoy the comfort and luxury of the cruise experience but who want to see new sights and experience the culture as well. The cruise ship is truly a floating hotel that delivers you from one city to the next.
Drawbacks to Cruising in Italy
The trouble with a cruise is similar to that of a prearranged tour. When you're traveling on a set itinerary, you have far less freedom to experience and explore than you might like. In some cases, you might have only about eight or ten hours to explore an entire city leaving you very little opportunity to see all of the major sights on your list. This makes it easy to sample the cities, but difficult to get a full experience in any of them.
Longer cruises don't usually make extra time in the cities as much as they just extend the trip farther along the coastline of the Mediterranean. To truly immerse yourself in the culture of Italy, plan to stay an extra week following the cruise with a car rental and extra time in the cities and areas of the country you truly want to explore on your own at your own pace.