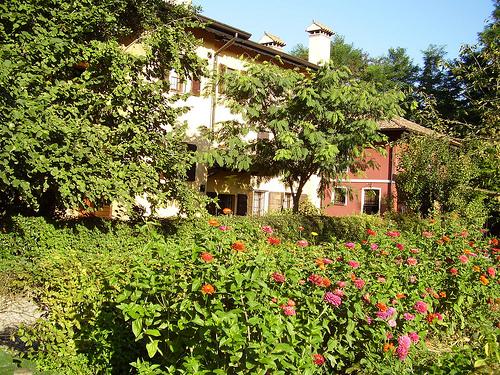 Part of northeastern Italy, the province of Veneto is a surprising gem of adorable towns and true treasures of agricultural countryside. Outside of Venice, you'll find many fun spots to visit and explore throughout the landscape as you discover real treasures and the golden richness of the land.
Portogruaro
Portogruaro is a natural starting place for exploring this region as it is the center of many towns all connected by developed roadways. From Portogruaro you can explore Annone, Veneto, Fossalta, Concordia, Saggitaria and Pramaggiore all within a few kilometers of each other. Each town has its own culture and fun to be discovered in courtyards and ancient buildings.

The History of Portogruaro
Once an important trading post, the history of Portogruaro is engaging and easily explored through streets and squares today. The city was established in 1140 and became a major export and import center by the 13th century. The town escaped the hold of the Bishop of Concordia only to become annexed by Venice in 1420. During this time the town and region grew with new bridges, houses, streets and palaces until it reached the height of its splendor in the 15th and 16th centuries.
Discovering History in Portogruaro and Surrounding Regions
While exploring the town of Portogruaro and surrounding cities, the medieval elements of the town are the most striking features to discover along with the many palaces remaining from the Venetian period of the city. Among these features are the Porta di San Giovanni, or Gate of San Lazzaro, the Church of San Giovanni and the Piazza della Repubblica with a 14th century Town Hall. Signs of the commercial past of the town, the Mulini or mills are found along the river Lemene.

Exploring the Countryside
Outside of Portogruaro is an ancient Abbey of Summaga from the early 11th century. The church as a Basilica plan and contains frescos from the 11th and 12th centuries as well. The abbey is found four kilometers from Portogruaro, and can easily be included in part of your travels out into the countryside. Also in the countryside are ancient farmhouses scattered about the fields living a rustic, lovely existence. Two streams and the closeness of the sea add an extra dimension to the countryside of Veneto making it a lovely place to relax and simply experience the joy of true beauty, especially after bustling about in the larger cities of the region.