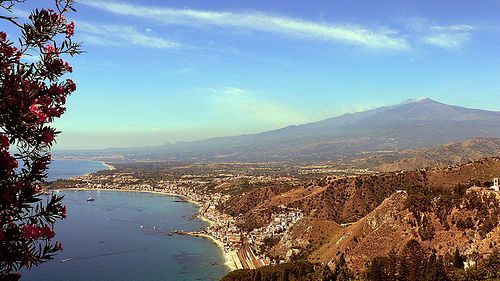 If you're planning to visit Sicily, the island at the far south of Italy, be prepared for the stunning beauty and rich history of this dazzling area. It's praises are often unsung, but Sicily is most certainly a land with terrific beauty.
Aeolian Islands – Beautiful islands, especially in the summer months, these small islands are reached by ferry leaving from Milazzo. The seafood and beaches are outstanding, and in August especially, the crowds can be outstanding as well.
Agrigento – Also called the Valley of the Temples, this large archeology site is surrounding by olive groves and almond orchards. In Agrigento you'll find several Greek temples, including one of the two ancient temples still completely standing in Sicily.
Cefalù – Home to an ancient Sicanian temple on a rocky cliff and plenty of ruins from castles and other ancient structures, this charming town has narrow medieval streets and plenty of interesting shops. Just an hour from Palermo, this town is a great way to spend an afternoon.
Erice – A hilltop town with plenty of history, Erice is walled with a castle, church and medieval streets with plenty of atmosphere. The local pasteries are divine and the Good Friday procession is amazingly realistic.
Mount Etna – A sacred mountain at the center of many legends and myths, Mount Etna is always cool and always an interesting place to visit. Mount Etna is Sicily's highest mountain and is easily reached by jeep in the warmer months of the year.
Monreale – An amazing twelfth century cathedral and cloister built high on a hill in the Norman – Arab style. With preserved hearts of saints and a mosaic of the murdered saint Thomas Becket, the cathedral is beautiful and full of interesting facts and sights.
Nebrodi Mountains – Lushly forested, the mountains are north of Mount Etna. These mountains look nothing like you'd expect in the Mediterranean with green lush vegetation and plenty of snowfall in the winter months.
Palermo – Sicily's capital is the largest city on the island. It's chaotic, dusty and stunning when you are able to pick through and find the true treasures of the city. Medieval architecture and art galleries can be found throughout the city.

Segesta's Temple – A completely standing Greek temple, Segesta is the pride of Sicily. Arguably one of the best relics of the ancient world, the temple and the accompanying amphitheater are truly stunning as you glimpse the way the world once way.