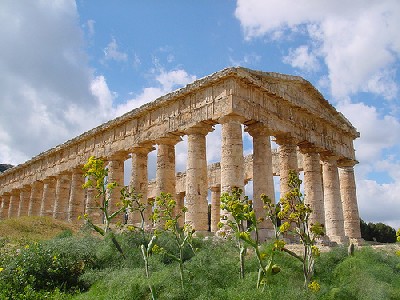 Segesta is a no longer inhabited historic city, founded by the Elimi and located in the north-west of Sicily.
The old city is located on Mount Barbaro, in the municipality of Calatafimi, about ten miles away from Alcamo and Castellammare del Golfo.
The Archaeological Park is situated in a wonderful location among ocher-colored and red-brown hills, forming a pleasant contrast with the infinite shades of green and it is dominated by the bulk of the Doric temple.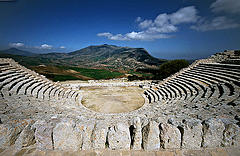 The old Segesta, probably founded by the Elimi, as well as the town of Erice, soon became one of the major cities of the Mediterranean area under Hellenistic influence and in the V century it was the biggest rival of Selinus.
Of particular beauty are the temple in Doric style, and the theatre, partly dug into the rock of the hill.
The temple of Segesta, one of the most perfect to survive from Antiquity, stands in majestic solitude on a hill surrounded by a deep valley framed by Monte Bernardo and Monte Barbaro where the theatre is located. It was erected in 430 BC in elegant Doric proportions of rare harmony.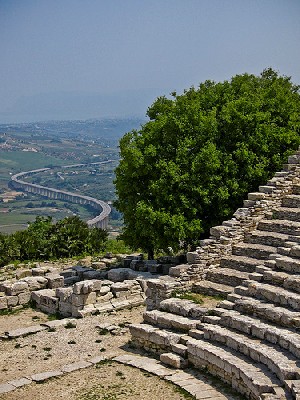 The peristyle is almost completely intact with its 36 columns in magnificent limestone of a golden hue and without grooves.
This fact and the lack of the internal cell created the suggestion that the building had never been finished. Its destination is also a mystery, as it has not been found any evidence that could indicate which divinity was dedicated to.
The theatre was built in the III century BC in the Hellenistic period, but under the Roman domination. It consists of a perfect and large semi-circle of 63 m in diameter placed on a rocky slope, the steps are oriented towards the hills, having at their beck, on the right, the Gulf of Castellammare.
Every two years, in summer, the theatre becomes alive again, it is filled with spectators ready to enjoy in a relationship without time, the great tragedies and comedies that fascinated the ancients.