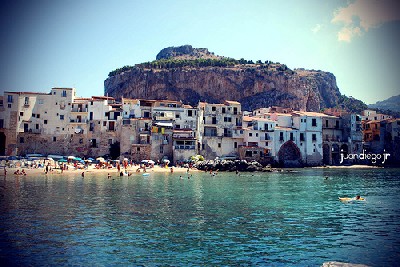 Cefalù is located on the northern coast of Sicily, at one end of the Gulf of Termini Imerese. The city is about 50 km from Palermo.
It is a small seaside town with a picturesque harbour from which it is possible to observe the typical sea front of the walled city, with the arches that form the shelter to the boats.
The climate is typically Mediterranean, enjoying dry and windy summers, and mild winters with moderate rainfalls. It is located within the Park of the Madonie.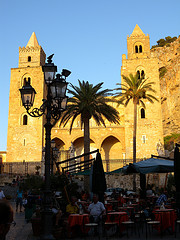 Apart from some few remains of prehistoric artefacts (ovens, cisterns and domestic buildings) the first plant of which remain significant testimonies to the top of fortress, dates back to the IX century BC.
The remains of a castle, protected by a wall which was intended to make the town impenetrable, are Norman.
But the city is characterised by the spectacular cathedral, built starting in 1131 by King Roger II, willing to respect, according to legend, the vote for the grace received after escaping a storm arriving just in Cefalu.
Very important it is the Museum Mandralisca located in the homonymous street, wanted by Enrico Piraino, Baron Mandralisca.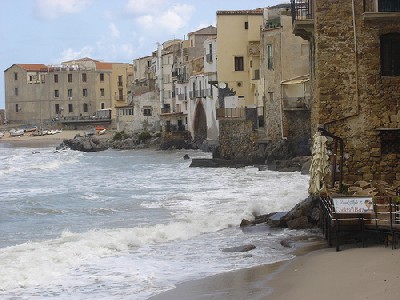 There also is a city beneath the city.
A series of excavations, started in 1980, have brought to light remains indicating evidence of a Hellenistic-Roman settlements.
The excavations in the urban area have unearthed six carefully paved roads and other masonry structures, enabling to formulate specific hypotheses about the characters and the nature of the ancient centre.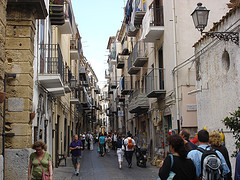 Cefalu is a resort of great interest to Italian and foreign tourists as well as a favourite destination for a trip to Sicily. The city is therefore quite hospitable in terms of accommodation facilities with of various categories and restaurants serving mostly fish specialties.
The downtown streets are full of souvenir shops, local crafts and small antiques.