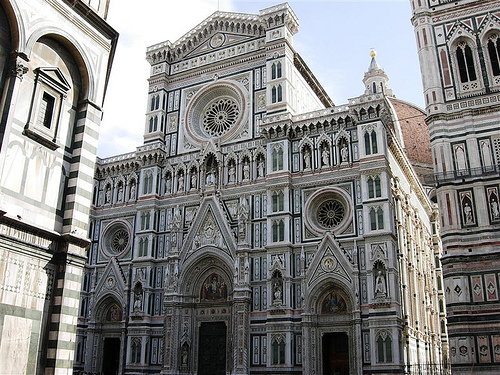 Florence is among the most popular cities to visit when on tour in Italy. With the number of sights in the ancient city, it's no wonder that is city famous for intelligence and wonder in the fifteenth century still has so many terrific aspects to visit.
Galleria dell' Accademia – The Gallery is filled with paintings from the Renaissance, but many know the Academy for two works of art. The first is Michelangelo's statue of David and the second is his unfinished Prisoners. David is a tremendous symbol of the Renaissance and marked the movement of art away from depictions of God into portraits and statues of man.
Baptistery– Florence's oldest building; the Baptistery is dedicated to the city's patron and is easily one of the most important Romanesque buildings in all of Tuscany. Inside you'll find a brilliant mosaic ceiling showing scenes of the Old Testament. Outside, however, are the most impressive aspect of the building. The exterior bronze doors are the result of a contest and are famous still today for their excellence.
Duomo– The large Gothic church has been a symbol of Florence for some time. The church's neo-Gothic exterior is created from pink, green and white Tuscan marble, and was created in 1870. The original church was build during the period of the Renissance and was designed by Brunelleschi. The most striking aspect of the Duomo is the dome. This dome was the first to be built since Roman times and served as a model for many future buildings.
Museo Nazionale del Bargello- Located in a former prison, this sculpture museum is notable for it's surroundings and its holdings. Inside the museum you'll find a collection of Renaissance statues from some of the most celebrated names in art. Statues by Ghilberto, Donatello and Michelangelo can all be found here.
Ponte Vecchio- Internationally famous, the Ponte Vecchio is famous for it's fine shops. The shops traditionally have sold gold and silver, but today more specialty shops can be found as well. The passageway that is found above the shops the Palazzo Vecchio, Uffizi Gallery and the Pitti Palace across the Arno River.  The bridge and its connections were used by the city leaders of Florence to escape when the city was under attack. However, this was the only bridge in Florence to escape the attack of the Nazis as they retreated. It is the only bridge over the Arno River that was left standing.