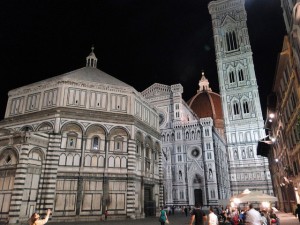 In the center of Florence, you'll find the Piazza del Duomo. This city square is the hub of Florence with many of the major sites all located around its perimeter or in the general area. When you visit Florence, if you only had an afternoon – which would hardly be the best way to visit this great city – a brief trip to the Piazza del Duomo would give you a true taste of what Florence has to offer.
The Duomo
The large cathedral in Florence, or Duomo, is one of the most impressive structures in the city. It's sweeping architecture is immense and the sheer size of the Duomo as well as the attention to detail are dazzling. The original art from the Duomo has been moved to a different part of the city and you can see it in the Museo dell' Opera del Duomo, although this is not located around this central area. If you're hoping to visit the Duomo, it is open the public from 10am to 5pm with more abbreviated hours on Thursday and Saturday. The Duomo is only open in the afternoons on Sundays.
The Baptistery
Located directly in front of the Duomo, the Baptistery is easily one of the oldest buildings in Florence. The giant bronze front doors were designed by Ghiberti, although the doors you'll see on display are actually copies of the originals, which are protected in the adjacent Museo. Walking around inside the Baptistery is enough to make you think of a museum with impressive mosaics and an inlaid marble floor. The Baptistery is open from noon until 7pm excluding Sundays when it has shortened hours.
The Museo of the Duomo
The Duomo Museum is an impressive collection of the pieces from the original collection found at the Duomo as well as other stunners. You'll find an unfinished pieta by Michelangelo as well as the original Bronze doors of the nearby Baptistery as designed by Ghiberti. The museum also includes some of the more impressive works by Donatello including many of his statues. A tour through the Duomo would give you an excellent taste of the works of the masters from this region of Italy. You can visit the Duomo museum from 9am until 6pm most days. The museum stays open later during the peak months of the tourist season, but is closed on Sunday afternoons.
And if you want to know all news about every monument, you can participate to guided Florence tours.