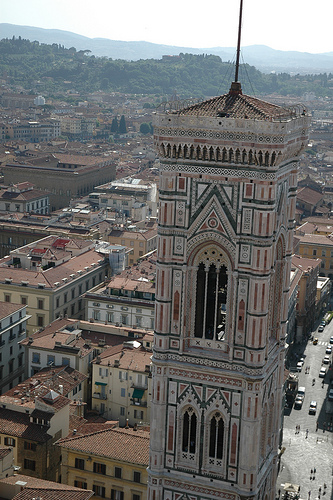 It's hard to ignore the wonder that is Florence. Deep in Italy, Florence was one of the first areas of the Renaissance to truly break away from the patterns of old and start seeking new knowledge and exploration. Today, Florence is one of the most popular tourist locations in the world, but still millions of people visit Florence each year to experience just a bit of that local flavor.
The Baptistery of John the Baptist
Dating well before the Renaissance, the Baptistery dates back from the 11th century. It's currently located in one of Florence's oldest building and is protected by walls of green and white marble as well as three sets of amazing bronze doors. The inside of the building is spectacular with mosaics and a marble pavement of the zodiac.
Il Duomo – Cathedral of Santa Maria del Fiore
The most popular site in all of Florence is the cathedral, or Duomo. The Cattedrale de Santa Maria del Fiore was started in 1296 and was consecrated in 1436. The giant cathedral can hold 20,000 people at a time and is striking with an exterior of green, pink and white marble. The Cathedral of Santa Maria del Fiore is wonderful to visit as you have ample opportunity to see the interesting statues and elaborate doors. Inside the cathedral Is Brunelleschi's Dome, a true masterpiece. Purchasing a ticket will give you permission to climb the 463 stairs to the top of the dome.
Campanile – Bell Tower
Just outside of the Cathedral of Santa Maria del Fiore is the Piazza del Duomo. And in the piazza is a striking bell tower, or the Campanile. The first story of the bell tower was designed by Giotto, so the entire structure is often referred to as Giotto's Campanile. There is no elevator inside, it's certainly not for everyone, but after you purchase a ticket, you can climb the 414 stairs for a truly astonishing view of the cathedral, the dome and the beauty of all of surrounding Florence.
Ponte Vecchio
The old bridge, or Ponte Vecchio dates back to the Renaissance. It was originally built in 1345 as Florence's first bridge across the Arno River and today is celebrated as the sole remaining bridge from the medieval days of Florence. Unfortunately, all other bridges in the city were destroyed during World War II making the Ponte Vecchio truly special. Lined with shops and artifacts, the Ponte Vecchio is a true treasure of Florence.
Tourists cold choose among a great veariety of Florence accommodations to live a relaxing and comfortable journey!