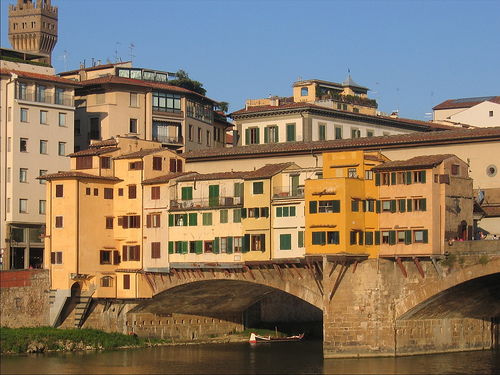 One of the big three destinations in Italy, Florence is situated in the heart of Tuscany and holds a fantastic appeal for tourists. Of course, like so many things in Italy, Florence can be a bit pricey with hotel and food bills adding up. Fortunately, there are many interesting and fun things to do in this Italian city that don't cost anything at all.
Piazza del Duomo
The Cathedral Square around the Cattedrale de Santa Maria del Fiore is immensely popular with residents and tourists alike and the square and cathedral have no charge for visiting. The massive gothic structure in the center of the square is breathtaking in various shades of marble. Inside you'll find statues and elaborate designs as well as artifacts dating back to the 11th century. Wander through the Duomo and the surrounding piazza to experience some of Florence's best history.
The Ponte Vecchio
Ponte Vecchio, or the Old Bridge, dates back to the middle of the 14th century and is open to visitors just as any other shopping center might be. This bridge is the only one that survived World War II, and dates back to medieval times. For the last six centuries, Ponte Vecchio has been a top spot for gold and silver traders in Florence, and to this day you can find any number of treasures if you're looking to buy or simply wander – dazzled by this sort of impressive window shopping.
Look for this piazza in the center of Florence's historic district. There is an impressive collection of ancient statues throughout the square including a faithful representation of Michelangelo's David. Tour the piazza and be sure to note the fountains, the town hall and other medieval buildings and structures in the immediate vicinity.
San Lorenzo Market
While free to visit, you're not likely to emerge unscathed from this central market. From fascinating local delicacies to clothing and wine, the market holds virtually everything you might think of – and many things you wouldn't. Set a limit to spend and wander throughout the marketplace looking for some terrific souvenirs, or perhaps just some bread, cheese and wine from local artisans to enjoy for a picnic in one of the many piazzas. After all – wandering and snacking are some of the best ways to enjoy Italy, no matter the city.