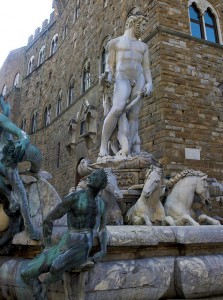 One of the most interesting and beautiful areas in Florence, the Piazza della Signoria is a true heart of the city. The square is especially important as it is located in the center of the city and is the home of the city hall, or Palazzo Vecchio. The piazza is also home to part of the Uffizi Gallery, which is a common meeting place for the Florence natives as well as many tourists who visit the "beautiful" city.
The Beauty of Piazza della Signoria
The Piazza della Signoria isn't just renowned because it is so well located. It is, in fact, a beautiful location within the city. The square is the lovely home to many concerts, fairs and even rallies as well – all of which are striking set against the impressive backdrop of the old marvels located there. Among these impressive sites are two of the most important buildings in Florence as well as fine works of art.
As you walk through the square, you'll have a chance to see numerous sculptures designed and created by some of Italy's most fabulous artists. Among these is the most famous of all – David, by Michelangelo. In all actuality, however, the David in the Piazza della Signoria is a copy as the real statue is housed in the Accademia.
Other works of art in the square include copies of many fine statues. Most of the original works have been moved inside to protect them, but the replicas in the square are just as impressive in a sense as you're able to see them in the natural way they would have once appeared in the center of the city. In addition to David, you'll find Heracles and Cacus by Baccio Bandinelli as well as a statue of Grand Duke Cosimo I on horseback by Giambologna and his Rape of a Sabine as well.
Visiting the Piazza della Signoria
If this wasn't enough, you can also expect to find one of the most famous fountains in all of Florence in the center of the square as well. The Neptune Fountain is at the heart of the piazza, and the impressive fountain is just one of the ancient novelties you'll find here. The Piazza della Signoria was the site of the destructive Bonfire of the Vanities in 1497, and later the religious leader who brought on that bonfire was sentenced to die in a fire as well in the same square. Today you can still find a marker to show the location of the public execution.