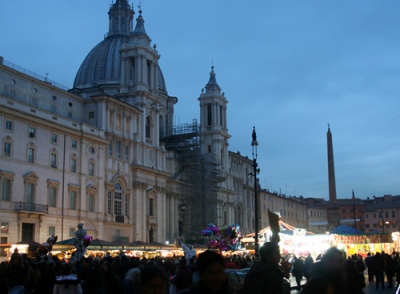 The tradition of the Epiphany in Piazza Navona started almost one hundred years ago. Since the beginning of December, the beautiful square is transformed into an open market, where stalls are traditionally dedicated to children.
Here it is possible to find sweets of all kinds, even those we normally think are not sold anymore, like caramelized apples, the classic coal sugar, candy cane, the traditional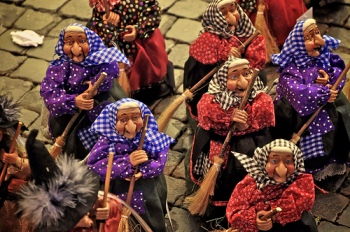 giant donuts, and all sorts of existing goodies that can be used to fill the traditional stockings.
But there are not just sweets: the square is filled with stalls full of toys of all kinds, from the most traditional to the latest generation, including fascinating game like the wooden old puppets and horses.
It is also possible to buy a variety of decorations for the Christmas  tree and the nativity scene.
Children can also go on the carousel traditionally placed at the center of the square.
The night of January 5th, the Befana comes personally to the square. This is a special day in which the square becomes an enchanted kingdom.
The market in Piazza Navona is undoubtedly one of the most popular events that take place in Rome. Every year during the period of the Christmas holidays, until January 6th, Romans and tourists walk among the stalls displaying themed gadgets, decorations, crafts, and lots of stockings, in all shapes and sizes.
Over the years, the appointment with the market in Piazza Navona has become a cult event.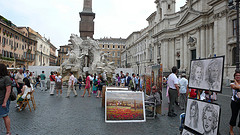 A tradition that has its roots in the past, when the square was built on the ruins of the Domitian's stadium, home to a crowded local market.
To make it even more attractive there is the presence of street artists, portrait painters and craftsmen who, with their creations and impromptu performances, accompany the audience helping to create a unique atmosphere.
Photos from the albums of:  Zelig, Gret@Lorenz, Roberto Ventre, Michel27, Tony Giabba.