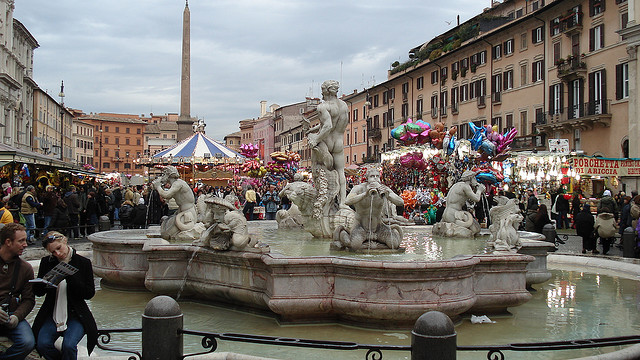 The piazza has been the center of life in Italy for hundreds, perhaps thousands of years. It stands to reason that these lovely squares located in the heart of the city are still much adored today. There are many different piazzas to enjoy throughout the city and not all are as crowded as you might expect.
Piazza San Pietro
St. Peter's Square is the grand piazza that can be found directly outside St. Peter's Basilica. Famous not only for its location but also its continued use today, Piazza San Pietro is a special place for tourists to gather on trips to Rome – especially those of a religious nature. The piazza is especially crowded around Easter, Christmas and other church festivals.
Campo dei Fiori
What used to a field of flowers, the official square of Campo dei Fiori has become a fun square full of restaurants and a thriving fruit and vegetable market. There are also a number of bars that circle the piazza making it a popular destination every night as well.
Piazza del Popolo
Located on the north end of the Via del Corso, the Piazza del Popolo is one of the largest piazzas in all of Rome. The square is considered grand and includes three separate churches as well as several fountains. The center of the square also contains a large Egyptian obelisk. Gardens, restaurants and more are all just steps away along the edges of the square as well.
Piazza di Spagna
Located at the base of the Spanish Steps, the Piazza di Spragna is one of the most popular tourist spots in Rome. The large staircase leads up to the Trinita dei Monti church, but walking through the square offers a great deal to see as well including a small statue by Bernini. With fashionable shops and boutiques, the piazza is a home to many interesting sights and sounds as well as the large steps which are considered perfect for resting and relaxing in the afternoon.
Piazza Navona
A long piazza is the home of the ancient Roman circus. Long and oblong, the races of old have given way to the meandering strolls of tourists and locals alike who take a walk around the piazza in the evening. Two fountains are located inside the piazza. Both fountains are designed by Bernini and are truly magnificent. Also located in the Piazza Navona includes the large church Sant'Agnese in Agone.