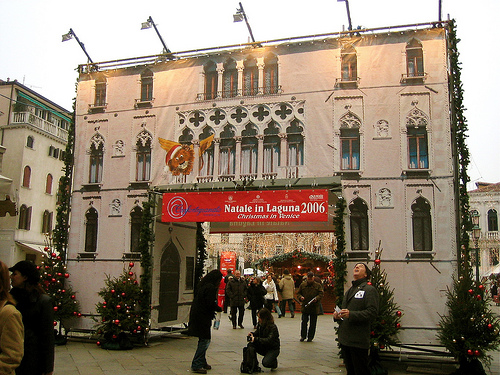 One of the most wonderful things in Italy is the various markets and fairs that spring up around the country throughout the year. Some of the most special, however, appear around the Christmas season, which in Italy lasts through Epiphany, January 6.
Piazza Navona in Rome
The annual Christmas fair in the Piazza Novona is one of the largest and most well known of the holiday fairs. Booths ring the plaza selling homemade wares and antiques. Many of those selling in the fair come from outlying communities every year to enjoy the crowds, the cold and the delicious candies made right on the street as well as the large presepio in the center of the town.

Prato in Tuscany
The Saturday before Christmas finds fifty stands around the Town Hall building in an annual market. The Prato market has a great deal of linen work and antique books which are terrific gifts for those back home as they are small enough to fit neatly into a suitcase. The market might also move under the portico if the weather turns bad.
Campo San Maurizio in Venice
The pretty square is near St. Marks and has a large turn-out of collectors present on December 16-18. The entire northeastern portion of Italy has been known to come together to sell small objects and paintings. The prices in this market can be very expensive, but these are some of the more rare and exquisite ornaments you'll find for sale in the country.
Borgo Maggiore in San Marino
The pretty castle in San Marino is home to an antiques fair around December 17 and 18. The market consists primarily of small items such as maps and coins as well as other authentic and unique antiques.

Bastia Umbra in Umbria
The Saturday before December 21, a bric-a-bra fair is held in the old town close to Assissi. The fair has a great many prints, stamps and local crafts created by hand. The ancient church of Santa Croce is a beautiful and artistic backdrop to the market.

Merano in Trentino-Alto Adige
The mountain towns are a haven for lovely Christmas festivals. Visit these after dark when hundreds of the lights make the atmosphere more festive as you work around the tacky plastic toys and video games to find the hand crafted artifacts to use for gifts and decorations.