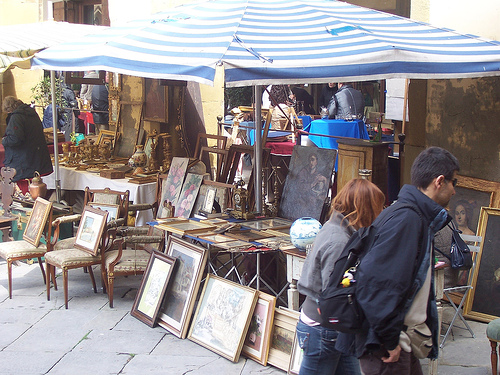 As if it weren't enough  to appreciate the beauty of Tuscany as you travel through the lush area of Italy, there are antique markets and various fairs offered throughout the year in many of the cities and towns that can offer you terrific bargains and beautiful pieces of authentic Italian heritage. In addition to the markets and fairs that are scheduled and known throughout the world, there are always markets associated with festivals and special events throughout Tuscany.

Arezzo – Piazza Grande, first weekend of the month.
At the top of all Italian flea markets, the one offered in Arezzo more closely resembles an outdoor antique furniture store than a yard sale. Browse through to simply stare at the impressive pieces and pick up a few accessories that might fit into your suitcases. The nearby church of San Francesco contains Piero della Francesca's beautiful frescoes which are certainly worthy of a visit as well.

Florence – Teatro Tenda/Lungarno Aldo Moro, October 21-22.
The annual Straw Market in Florence is known throughout the world, and if you are in town during this time, stop by the salvage the treasures and junk old Italian families are selling. Bursting with amazing antiques you could never find in a traditional flea market, the Straw Market is truly a dazzling affair.
Lucca – Piazza San Giusto, third Saturday and Sunday of every month.
This market specializes in furniture with a full range from simple, sturdy pieces to the elegant French artistry that has been around since the 19th century. Accessories such as antique ceramics, handmade lace and beaten tin are also commonly found here.

Lucca – Piazza Marconi, Wednesdays
With a huge assortment of clothing, you can find treasures at this market. It is known to be especially lucrative for cashmere lovers.
Prato – Piazza del Comune, Saturday before Easter, Sept. 8 and Christmas Day.
The Prato market specializes in antique books and linens as well as other small pieces of history.
Porto Santo Stefano – April 15-17, July 28-29, August 25-26.
At this seaside market, you're as likely to find salvaged furniture from sailing boats and cruise ships as you are anything else.

Pistoia – Via Cigliegiale, every Wednesday and Saturday.
Winding through many streets around the square, this market showcases antiques alongside modern implements. From modern kitchen appliances to local cuisine, this market is a worthy stop.