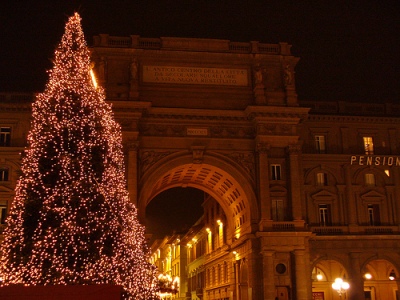 Christmas and New Year is probably one of the most beautiful time to visit Florence and spend holidays in Tuscany.
The city of history and culture, is transformed into an enchanted city, thanks to the little tricks that every year are shown to make it a fantastic city.
The thousand coloured lights illuminating the streets of the Historical Centre make it a magic land, suspended between antiquity and modernity.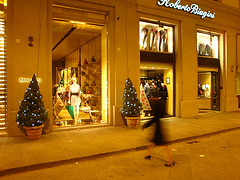 The typical winter weather announces to tourists and Florentines that it's Christmas, a time of celebration, gifts and friends and family meetings.
Even the well known monuments and historic buildings of Florence blend perfectly with the Christmas decorations: a magical place, full of knowledge and past for those who, in addition to the traditional Christmas shopping, wants to discover the wonders of the Renaissance.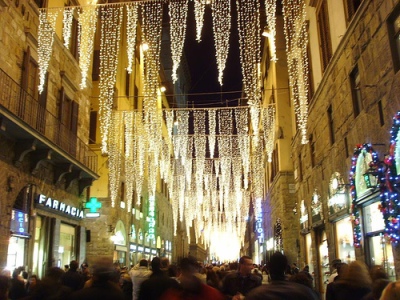 Wreaths, decorations, brightly lit windows, market stalls, markets, and much more awaits visitors in the historic centre of Florence. Shows and events in addition to traditional solemn masses and religious events are organized to stress this peculiar time of the year.
Those 2 of the most important  events taking place in Florence for the holiday season of 2009:
Florence Noël
From December 5 to 13 at Stazione Leopolda in Florence there will be a Christmas sales exhibition of objects, crafts, furniture, food. There will also be the rebuild house of Santa Claus.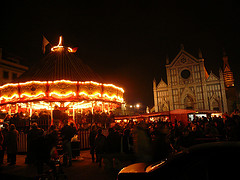 It is open from 10.00 to 22.00 on Friday, Saturday, Sunday, Monday and Tuesday, while from 15.00 to 22.00 on Wednesdays and Thursdays. Ticket price € 7.50 full and 6.00 € reduced. Children under 3 enter free.
Christmas Market of the Italian Red Cross
The annual appointment with the Christmas bazaar of the Italian Red Cross takes place from 11 to 13 December 2009 at the Teatro Saschall.
The opening hours are from 15.30 to 19.00 on Friday 11 and from 10.30 to 19.00 on Saturday 12 and Sunday 13. Admission is 5.00 €, children free up to 14 years.
Photos from the albums of: CiuPix, Mihr*, flickrc, darkripper, MINGHE*luciano,  -= Treviño =-.