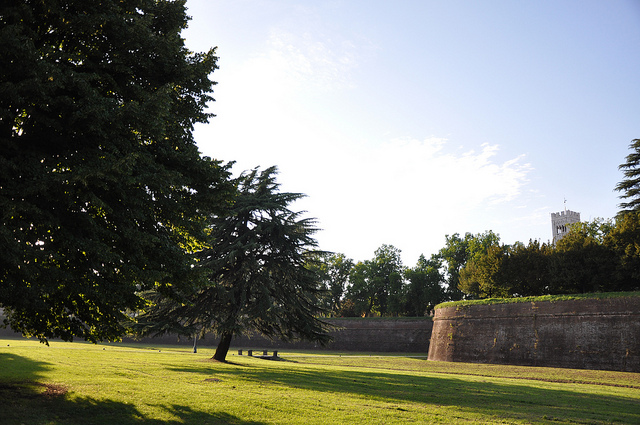 Tuscany is among the most sought after destinations in Italy, so it's no surprise that so many tourists seek out an opportunity to spend time in Florence, the capital of the Tuscany region, and the surrounding countryside. In fact, Florence is the ideal spot for day trips throughout Tuscany.
Lucca
One of the most iconic walled cities in Italy, Lucca is home to the most intriguing walls in the country. The walls surrounding the historical center of Lucca are thick and well persevered, making them an ideal place to catch a glimpse of the way life used to be in the ancient buildings or simply stoll along the top of the wall to see down into the historical center and away into the beautiful countryside as well. If you venture down from the hiking and biking trail on the walls, you'll find beautiful churches and historic towers to explore as well.
Fiesole
Nestled in the hills above Florence, Fiesole is home to many ancient ruins complete with a Roman amphitheater and sights dating back to Etruscan and Longabard times as well. Look over the hills to admire the views of the countryside and even catch a glimpse of the city of Florence in the distance as well.
Siena
The most popular medieval town in the hills of Tuscany, Siena is easily reached by train, bus or car from Florence.  Stroll through the large piazza and wonder at the stunning cathedral. If you're feeling particularly hearty, you can climb to the top of the bell town – it's more than five hundred steps to the top – and enjoy stunning views of the region.
Greve
Located in the Chianti Wine Region, the small town of Greve is easily reached by bus from Florence, but if you have a car you can do a more interesting exploration of the Chianti region of Italy. This is one of the wine centers of the country, and it extends from Florence to Siena. Numerous vineyards and wineries are located here and most of the wineries are open for tastings and tours.
Pisa
One of the most iconic sights of Italy is located just a short trip away from Florence. Take the train or a bus from Florence and then enjoy a leisurely walk to the Piazza dei Miracoli where the Leaning Tower is located. While in the city, enjoy the Duomo and the medieval center in the heart of town as well.