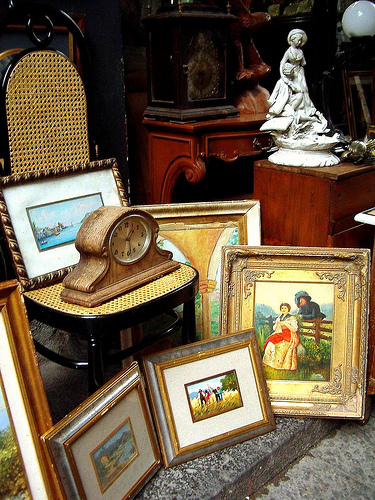 Save yourself a day while touring Rome to just go antiquing. If you're already serious about collecting antiques, you'll find a treasure trove of items that are truly one-of-a-kind and unavailable anywhere else. Even if you're not serious about antiques, Rome is a particularly wonderful place to wander about looking for true treasures to take home as a memento or souvenirs for friends and family.
Antiques in Italy
As one of the oldest societies in Europe, Rome and other Italian cities have a love of antiques that date back centuries. This means the antique shops and bazaars will always turn up something fabulous. When shopping in Italy, you'll likely run into some language barriers and everyone will want to haggle – it's part of the deal. Take your time and don't be rushed into a purchase. Use the universal numbers and a small pad of paper you bring along for haggling down prices and always have cash on hand – the tiny antique shops and street fairs won't take credit cards.
The Best Antiques in Italy
The best antiques are the ones that you happen upon that suit your own decorating scheme or collection, but for a can't miss antique opportunity, check out Via del Babuino-Via Margutta area near Piazza di Spagna. These shops sell at an international level and have some hefty price tags for truly astonishing pieces. In this area you can find ancient coins and other treasures, but be sure to bring more than a few bills as your trip can get expensive.
One place you should absolutely visit is the Granmercato del Antiquariato. Three stories of antiques are stocked with carpets, jewelry, silver and all sorts of odds and ends. While not as expensive as some of the more exclusive shops, the sheer amount of treasure in this particular trove can be overwhelming.
Take a break for lunch or coffee and then head over to the quieter area of Via Giulia and Via di Monserrato. The galleries here are quieter and are filled with 17th, 18th and 19th century paintings, art deco and furniture. If a particular item needs repair, you can find local artisans who work with antiques nearby on Via dell'Orso – the same location of the annual Artisan's Fair in October. If you're seeking small objects that fit easily into a suitcase, the outdoor market at Piazza Fontanella Borghese has books and prints along with small collector's items daily.