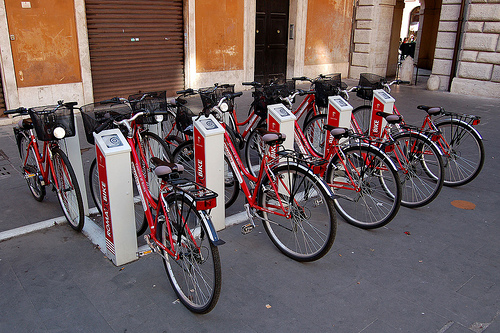 There are always things you learn while in foreign cities that you wish you'd known beforehand. In this case, you can learn at least two things that might prove very beneficial in your planning and especially in emergencies – of all types.

Rome by Bike
The city of Rome has established nineteen bike stands throughout the city to help ease a bit of traffic congestion and make it easier to move about the town. The bicycles are provided free up to a certain point, and if you're brave enough to bike through the bustling city, you'll see much more than you'd expect and do it for little or nothing (if you follow the habits of the Romans.)
To use the bikes, ask your hotel concierge to point you in the direction of the nearest Tourist Board kiosk. Sign up for the service and you'll need to leave a 30 Euro deposit, but don't worry – you'll get this money back before you leave. Once you've signed up and paid the refundable deposit, you will get a map of the city to use in your travels.
The bikes are free for the first thirty minutes of use and can be turned in at any of the nineteen locations throughout the city. The city wants to have the bikes available to everyone, so there are penalties for keeping the bike longer than the initial thirty minutes. You'll have to pay 1 Euro for the second half hour, 2 Euros for the third and 4 Euros for the fourth. But do as the locals do and you won't pay a thing. Simply take a free bike for thirty minutes and return it only to take another free one as you move throughout the city.

Services in Rome
Services in Rome are not limited to church services and utilities. In fact, the most common definition of services, or serviz, is the restrooms located publicly throughout the city. These restrooms are particularly important as bars and restaurants are not often willing to let the public use theirs.
The public services, or restrooms require a small payment, but the services are prevalent throughout the city at least. If you're concerned about the restroom situation, you can even buy prepaid cards before you leave home via the web. Buy a day or a week's worth of trips so you can rest assured that you're always ready when you need to be.