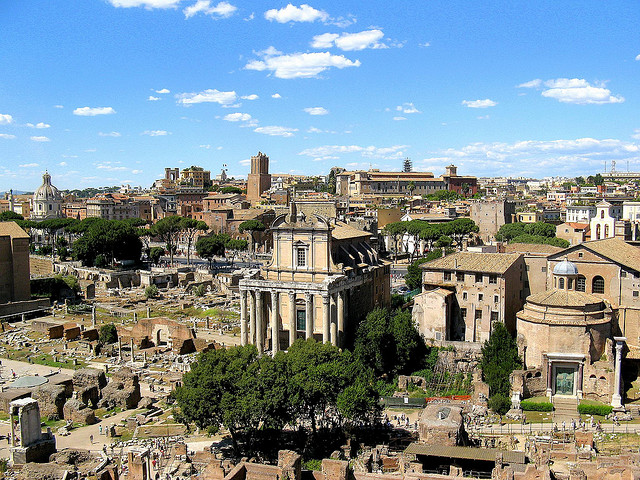 If you're heading to Rome, you absolutely must plan to see the ancient ruins that mark the city as truly ancient. The ancient buildings, walls and ruins of the old Rome are easily accessible and most can be seen for free, at least from a distance. Others require special passes and cards to enjoy fully, but you can easily arrange a day on foot through the ruins in the city's center.
The Colosseum
The largest and most famous ancient structure is the huge amphitheater located in the heart of the city. The Colosseum at one time held up to 55,000 people to enjoy the deadly fights between gladiators and animals. The tickets into the Colosseum can be tricky to acquire, so plan ahead and consider buying them well before setting foot in the city. The best day to visit the Colosseum is Sunday when the Via dei Fori Imperiali is closed to traffic, allowing tourists to walk between the impressive Colosseum and the nearby Arch of Constantine.
The Pantheon
A large temple to all of the gods of ancient Rome was erected between AD 118 and 125. Overseen by Emperor Hadrian, the Pantheon today is the best preserved building of ancient Rome, perhaps because it was used as a church for some time by the Early Christians. The Pantheon is no lined with tombs and visitors are able to see it all as admission into the Pantheon is free.
The Roman Forum
This complex of ancient ruins, temples and buildings is tremendous in size and scope, and you can easily spend an afternoon or a full day wandering through and discovering what it has to offer. The Roman Forum was the center of the ancient city with churches and businesses as well as legal centers and even brothels and food stands at one point. You will be asked to pay admission to the forum, and you absolutely must leave at least two to three hours at a minimum to enjoy exploring.
Piazza Navona
Once a race track or stadium, the Piazza Navona is now a large circular plaza completely lined with shops and restaurants. Enjoy delicious desserts as you stroll through the plaza or just sit and admire the three impressive fountains that are found in the center of the impressive piazza. The Piazza Navona is free for tourists and residents alike, but you'll wind up spending your money on the impressive array of shops and cafes that line the square instead.