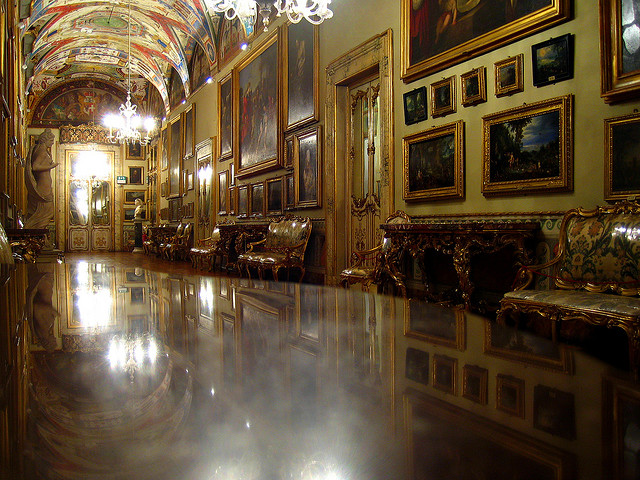 If you're looking for something a bit off the beaten track, try the Palazzo Doria Pamphilj . This art museum is open when many of the others are not, and it contains some impressive masterpieces of the seventeenth century as well as pieces from the Renaissance. Within the walls of the gallery, you'll find works by Titian, Raphael and Caravaggio among many others.
Touring the Palazzo Doria Pamphilj
When you arrive at the gallery, the price of admission includes the price of an audioguide. Be sure to get to the museum early enough in the day that the audioguides are still available – they have been known to run out and the museum is nowhere near as enjoyable without the guide to help you understand what it is you're seeing. The guides are simply plug-and-play and armed with your guide and with your map, you're prepared to learn more about the art and architecture of the time period than you'd expect in a museum a bit off the beaten track.
The museum dates back to the mid 1600s when Camillo Pamphilj began his art collection through marriage – he inherited a great number of paintings from his wife and then continued to collect works for art for his own private collection. Many he purchased and many more he had commissioned as he was a great patron of the arts.
While he did a great deal to start and continue the collection of art pieces held within the family home, other family members contributed to the collection as well through marriage or commission of their own art pieces. The collection of art you see today in the museum shows just how extensive the tastes of the family ran – from painting and statues to artifacts gained from archeological digs in the 1600's.
Visiting the Museum
A trip to the Palazzo Doria Pamphilj is a treat. The gallery contains so many works of art you can enjoy strolling through on your audio-guided tour for most of the day. Then, you can finish your trip to the gallery with a very special experience. Every Saturday at noon, the Palazzo Doria Pamphilj offers visitors a unique concert of 17th century music to accompany the artwork throughout the rooms. You can sit and enjoy the richness of the music and imagine yourself back in the palace centuries ago or skip paying the extra amount and continue to browse the halls as they remain open during the concert.