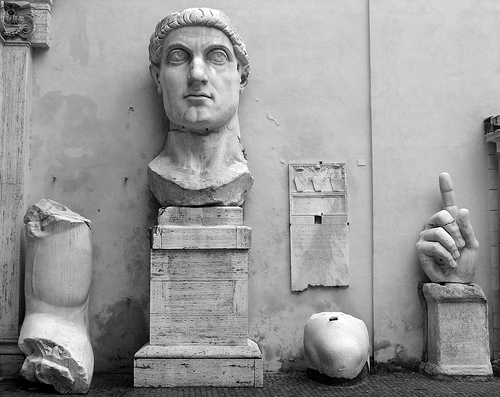 One of the most cultural stops in Rome, the Capitoline Museums hold treasures in art and archaeology dating back to the 15th century. The museums are situated at the top of Capitoline Hill in Campidoglio square, and this location is quite obviously responsible for the museum's name. The museums are home to many of the city's best treasures from centuries of research and excavation and are a must-see for visitors to the city.
Visiting the Capitoline Museums
The museums are housed in two palaces that face onto a central square. This piazza was designed by Michelangelo Buonarroti in 1536 and took more than 400 years to complete. In addition to the connection through the piazza, the museums are connected through an underground tunnel. This tunnel also leads to the ancient Tabularium – the offices and library of ancient Rome now located in the Roman Forum.

While the plaza might date back to the 16th century, the museums are dated to 1471 when Pope Sixtus IV donated his personal collection of ancient bronzes for the public to view. To properly display them, the Pope placed the collection in a structure at the top of Capitoline Hill. The museums are not owned by the city, however, not the church.
Palazzo dei Conservatori
The Palazzo dei Conservatori is the building on the right side of the Cordonata stairs. This is the entrance to the museums. In the 16th century palace, three stories of historical and artistic treasures are available for viewing. There are many sculptures both in bronze dating back to the original collection and in other mediums. The most famous statues in the Capitoline Museums are the Spinario which is a bronze creation dating back to the 1st century AD and the She-Wolf, which was created in the 5th century BC.
Sculpture is not the only form of art on display in the Capitoline Museums. A lovely collection of 16th and 17th century painting are found in the museum as well. In the courtyard of the museum, there are remnants of a colossal statue of Constantine II, a Roman emperor who was immortalized in the 4th century.
Palazzo Nuovo
The second half of the museum, the Palazzo Nuovo was built in the 17th century following a design by Michelangelo to complement the Palazzo dei Conservatori. The Palazzo Nuovo has two floors of ancient artifacts of Rome. This collection includes statues, sarcophagi, busts and even mosaics. The most notable statue in the Palazzo Nuovo is Dying Gaul and a statue of emperor Marcus Aurelius. The Palazzo Nuovo is linked to the Palazzo dei Conservatori through the Galleria Congiunzione, an underground tunnel with a collection of epigraphs.