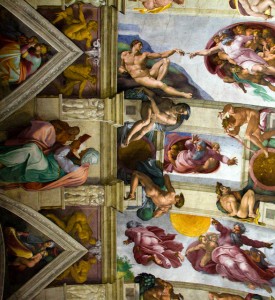 Centered in the heart of Rome, the Vatican is a city state unto itself. Known around the world as the home of the Pope and the heart of the Catholic church, the museums of the Vatican are globally recognized in their own right. The museums of the Vatican are not so much a collection of buildings housing art and other items of interests, but rather a collection of collections distributed throughout many different buildings of the Vatican.
The Many Displays of the Vatican
There is not starting date for the collections of the Vatican. In the very early 14th century, Julius II was the first to start bringing together items of interest. Every pope since that time has made it a point to continue collecting art and other historical items. In many cases the popes have commissioned the works rather than just collecting them. Consider the prime example of art in the Vatican – Michelangelo's masterpiece on the roof of the Sistine Chapel.
Today, when you buy a ticket to tour the museums of the Vatican, you're buying a pass to explore many of the buildings and churches over the course of the entire day. There are guided tours, both live and audio-based, and those tours will definitely help you find more of the important and most notable pieces on display, but simply buying a ticket to wander through the ancient rooms discovering new items and collections where you'd least expect it.
The Art of the Vatican
Outside of the ceiling of the Sistine Chapel, there are thousands of paintings and sculptures scattered throughout the grounds.  Don't forget to study some of the other treasures of the Vatican, however. There are also hundreds of ancient maps, tapestries, archeological artifacts and the perfectly maintained papal residence of Alexander VI who died in 1603. The Borgia Apartment is among the most interesting glimpse into the past within the grounds of the Vatican.
Visiting the Vatican Museums
To tour the museums of the Vatican, either alone or with a guide, you'll need to plan ahead. There are millions of visitors to the museums every year, and many buy tickets in advance or online. Buy your tickets in advance as well, especially if you're planning a guided tour. There is no parking near the Vatican, but you can take many different forms of public transportation to reach the Vatican including busses and cabs.