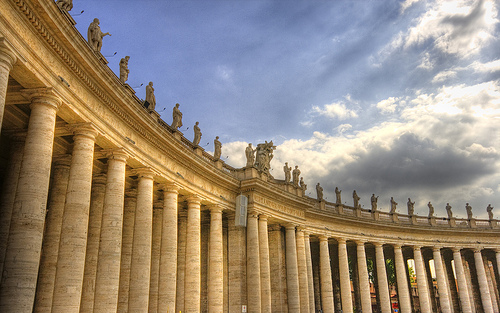 The Vatican might only 108 acres large, but the tiny country's power is undisputed. The Vatican City is a country in its own right, and is home to the head of the Catholic Church – the Pope. The Vatican is completely surrounding by Rome and touring the Vatican includes many of the most famous destinations in Italy – the Sistine Chapel, St. Peter's Church and the Vatican museums. But there is much to see in the city outside of these landmarks as well.
St. Peter's Church
St. Peter's is a landmark throughout the world and touring this building is free. There are free guided tours in English that leave the information desk every day at 3pm. Going beyond the basic parts of the church can get a bit more costly, however. Touring the pre-Constantine cemetery under the church of St. Peter must be arranged in advance. The 90-minute tour will also require 10 Euros per person with no children under the age of 14 admitted. It is believed that St. Peter is buried in this cemetery.
Papal Audiences
If you'd like to be in the presence of the Pope, you can request free tickets to a ceremony or write in to request an audience on Wednesdays. You'll need to collect tickets no later than the day prior from the Bronze Door. Seating is by section, so be sure to arrive early and always dress warmly when attending a midnight mass.
Vatican Stamps
The Vatican is its own country and it has its own stamps for postage. These are highly prized souvenirs and are available at official gift shops or government buildings. To mail a postcard or letter from the Vatican, you'll need to be sure to use a Vatican stamp and mail the letter in the yellow Vatican mailboxes. These are not to be confused with the red Roman postboxes just outside the walls of the Vatican.
Food and Lodging
There is little in the way of food or lodging inside the Vatican, but there is much to be had just outside of the city. Enjoy the current pope's favorite meal, consomme with omelet strips and strudel at the rustic Cantina Tirolese. Benedict XVI was a regular in the restaurant before becoming pope.
The Swiss Guard
Be sure to note the Swiss guard charged with protecting the city. The Swiss guard are the oldest military outfit having been establishing in 1506. There is a changing of the guard ceremony on the hour under the bell arch.