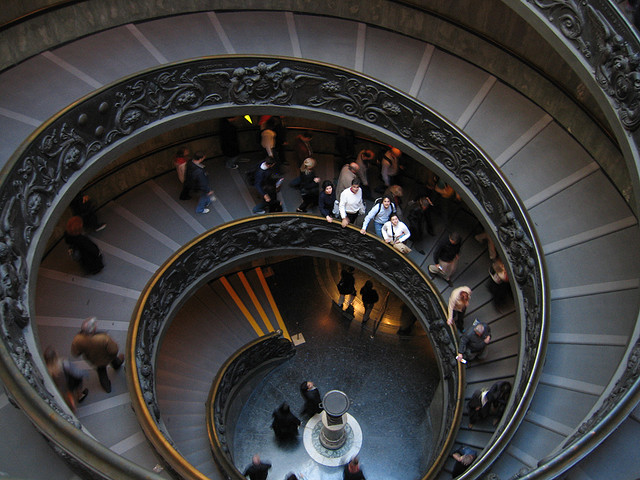 If you're planning to visit the Vatican, you'll want to do so with a full schedule and some sturdy walking shoes. The Vatican and Vatican museums are among the most popular destinations in the world, you can expect things to be a bit crowded when you arrive – unless you've deliberately chosen to travel in the offseason of fall or winter. Navigating the Vatican is simple enough with some advanced planning, but there are some tricks to the smallest country in the world that make it even more enjoyable.
Bring Cash
There are ticket booths for the Vatican museum that take credit cards, but you'll find or two at most and they might not be open when you get there – it's sporadic. Bring cash instead and you'll avoid the problem all together. You can buy full-priced tickets online, but discounted and student tickets can't be purchased online, so calculate what it is worth to wait in line for tickets and the extra cost of buying in advance.
Follow the Fashion Rules
The Vatican and St. Peter's Basilica have very set rules about fashion that will be enforced. The attendants don't mind that you've purchased tickets and stood in line for an hour. If you show up at the entrance in a tank top and mini skirt, you'll be asked to leave. The rule of thumb for a trip to the Vatican is to have your knees and shoulders covered. A long skirt or pants on the bottom and then a jacket, cardigan or shawl over your shoulders should do the trick. Leave any large bags in the hotel as well. You'll be required to check the bags if they are deemed too large, making the trip through the museums even a bit more complicated.
St. Peter's Basilica and the Vatican Museums Are Separated
You can walk through St. Peter's Basilica without paying any sort of admission price. Then, if you walk through a special side door you can make your way into the Vatican Museums. In a confusing twist of fate, you can't do this in reverse. You can go through the Vatican Museums after paying your admission fees, but you won't be given the opportunity to go through to the Basilica. You'll need to go outside to cross across Vatican City to get from one side to the other normally. This  is a bit confusing for everyone, but particularly first-time visitors.