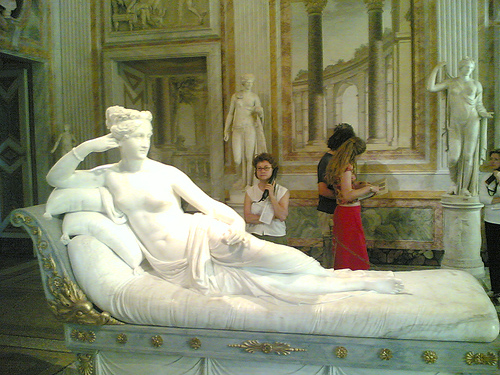 When visiting Rome, you need not step into a museum to be surrounded by ancient artwork and splendor. The entire city is a museum in a sense with so many statues, fountains and art pieces strew about the city. But while there are certainly amazing works of art outdoors, there are just as many, if not more, inside the hallowed halls of the formal museums in Rome. Among the museums you should make a point to visit are the following.
The Vatican Museums
The Vatican museums are an enormous undertaking, but well worth the effort. As you tour the Vatican museums, you'll see amazing frescoes and other art pieces throughout the history of the Catholic Church. Chief among these you'll find the Sistine chapel and Raphael's rooms as well as the other corners of the art museums and artifacts.
Galleria Borghese or Villa Borghese
The villa and accompanying gardens are famous for their collection of artwork, including the original statue of David. The gallery requires reservations, so be sure to plan in advance to visit the Villa Borghese. However, if you're unable or uninterested in the artwork inside the villa, the outside has an amazing beauty as well. The villa grounds are immense and contain fountains, pathways, lakes and statuary. There are medieval styled gardens as well. Walking the peaceful grounds is a nice break from the more frantic and noisy pace of the city as well.
Galleria Doria Pamphili
Housed in the Palazzo Doria Pamphilj, the gallery is in an ornate and luxurious interior. The collection within the gallery is sizeable and is hung from floor to ceiling making some pieces extremely high. In most of the rooms of the gallery, the ceilings are an artwork unto themselves and are worth seeing. Be sure you visit the Gallery of Mirrors especially while in the Galleria Doria Pamphili.
The Capitoline Museums
In the 15th century, the Pope dedicated a collection of ancient bronze statues to the people of Rome and the Capitoline Museums were founded. Today the museums branch through three different ancient buildings offering a great deal to see in regards to statuary. The bronze statues include the original Marcus Aurelius on horseback and the giant head of Constantine from what was once a tremendous statue. There are ornate frescos as well in the apartments and other decorations throughout.