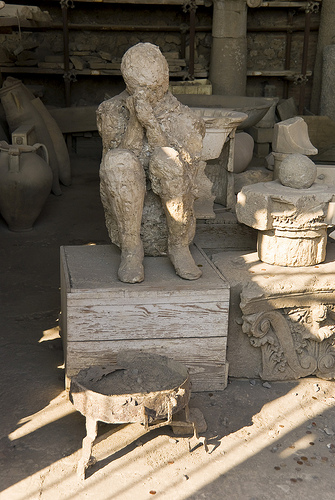 In AD 79, the prosperous town of Pompeii was awoken before dawn with a tremendous volcanic explosion. With a combination of hot gases and ash, the city was wiped of life and buried. Hidden under close to thirty feet of ash for centuries, Pompeii was preserved as it was the moment the volcano erupted. Paint was left in pots and murals were preserved perfectly. Most fascinating, the cavities left by the bodies of Pompeii's residents were used to create casts which depict the residents as they fell on that fateful night. Today Pompeii is one of the most popular tourist locations when visiting Italy.
Reaching Pompeii
You can reach Pompeii in many ways. A private line Circumvesuviana runs between Naples and Sorrento. Get off at Pompei Scavi. On the trek from Naples of Poggiomarino, exit at Pompei Santuario. You can also reach Pompeii by taking the SITA bus from Naples to Salerno. The bus stops at the piazza Esedra. If you're driving by car, take the Pompei exit from Autostrada A3.
Touring Pompeii
While in Pompeii, you'll be able to see some of the most astonishing relics of ancient Italy preserved as if they were used just a week previously. While many of the buildings are without roofs and have all relics removed from the interiors, you can still see the murals and the beautiful mosaics on the floor. The gardens, theaters and even the brothels are included in the various tours of the site. While excavations of Pompeii are done sporadically, enough has been uncovered that you can expect your tour of the ancient city to take more than a single day to finish.
When you arrive at Pompeii, you'll be asked to leave any luggage and backpacks as well as other bulky items at the Left Luggage departments of Porta Marina and Piazza Anfiteatro. At writing, this service is free and leaves you better prepared to explore what the city has to offer as you'll be doing a substantial bit of walking to discover the treasures of Pompeii.
Pompeii Tickets
At writing, a ticket to tour Pompeii is €10. If you'll be spending multiple days in the area, you can buy a three day pass to five local sites, Herculaneum, Pompeii, Oplontis, Stabiae, Boscoreale for €18. Pompeii is open Novemeber to March daily from 8:30 a.m. to 5:30 p.m. April to October, the city is open from 8:30 a.m. to 7:30 p.m. Pompeii is closed on New Years, Christmas Day and May 1.