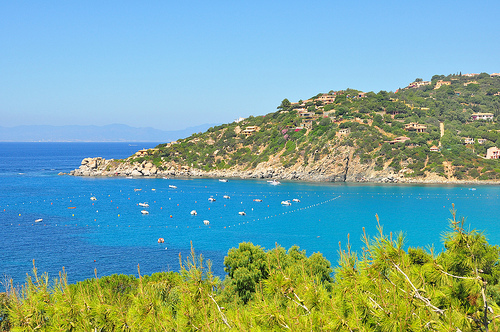 Every nook and cranny of Italy seems to hold timeless secrets and terrific beauty and Sardinia, a beautiful island off the coast of Italy, is certainly no different. The small island holds terrific appeal for many Italians, but is virtually undiscovered by most tourists. Visiting Sardina is a feast for tourists with interesting historical sights, amazing scenery and some of the most beautiful beaches in Italy. Best of all, the island is almost undisturbed by the hubbub that surrounds most of Italy's major cities – it's truly a world apart.
Circling Sardinia
You can make the circuit around Sardinia in about 900 kilometers or 559 miles. Spending a week on the island lets you explore every aspect along with stunning countryside and water views. Begin your journey in the capital city, Cagliari. A medieval town, Cagliari is situated on a hill along the southeastern coast of the island. The ancient streets lead you almost directly to the lovely beach just outside of town. After seeing the sights in Cagliari, head out of town heading west down the Costa Verde, a stunning stretch of coastline.
The Costa Verdi is unspoiled by developments and is an ideal location for swimming or sunbathing by the balmy Mediterranean. Just inside the island from Costa Verdi, the Nuraghe Su Nuraxi fortress dates back to 1500 to 400 BC. The huge complex is as fascinating as it is ancient. Continuing on to the northwest, you'll reach the ancient Roman city of Tharros located on the Sinis Peninsula. The ruins are interesting in an archaeological sense.
The Sights of Sardinia
Heading north up the western side of the island, you'll reach the small town of Bosa, home to yet another stunning beach. Continue on along the coastal road enjoying the beauty of the scenery to reach Alghero. Alghero is a port town that is walled and maintained beautifully. It makes an excellent base to explore the rest of the coast along this area. Continue around the top of the island and you can visit La Maddelena at the heart of an archipelago.
Moving around the island, the province of Nuoro is famous for its isolated inlets, spectacular gorges, deep caves and walking tails. Visiting this area gives you a nice feel for the island's culture. Considered the most spectacular bit of island coastline, Golfo di Orosei is easily seen by boat or on foot. From this point, it's easy to take a meandering drive back down the coast road to return to Cagliari once again.