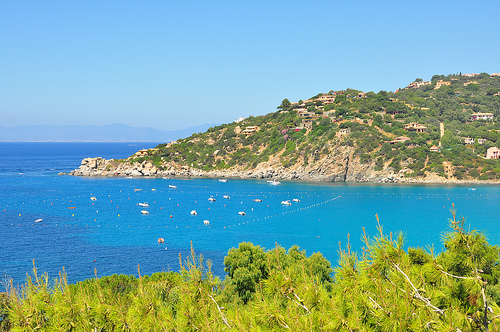 The island off the western coast of Italy is marked with astounding beauty and rugged features. Sardinia has dramatic landscapes from miles of shoreline teeming with fish and shellfish to beautiful valleys that become golden with wheat in the summer months. In the distance, mountains are full of caves and wild goats.
Those who visit the island are amazed by the complexity of its people. Sardinia is home to the oldest archaeological ruins in Italy dating back to 1700 BC. The people who make the island home speak their own version of the language that is incomprehensible to Italians who live on the mainland. These people love to celebrate and to demonstrate their fine heritage through costumes and song.

Visiting Sardinia
There seems to be little middle ground in Sardinia. In the summer months, the heat of the island is astounding with dry winds of heat blowing. In the winter, wailing cold winds blow down and across the mountain chilling residents and visitors alike. Adventurers love Sardinia as the island is so full of rugged beauty but with such diverse accommodations.

Public transportation on the island is chancy at best and the accommodations range from very primitive to very deluxe with little in between for the average visitor. Sardinia, while not overly welcoming, is open to tourists and can be a wonderful way to expand a visit in Italy into more interesting and diverse realms that what you traditionally find in the travel guides.

Interesting Sights in Sardinia
The most astonishing sights in Sardinia are easily accessed by traveling the Emerald coast. The curving narrow road that shadows the coast of the island is a treat for the sense. The bright turquoise waters and sandstone formations alone are lovely, but the small fishing villages and curious and outrageously priced boutiques are just as amazing.
It is best to drive in Sardinia as the public transportation is so slow and unreliable, but driving is especially freeing on the island. While you drive, you're able to keep the best parts of the island in constant view. You'll likely decide quickly to keep your swimming and snorkeling gear on hand for the countless occasions you'll become inspired to stop and explore the clear shallows right outside your car window.