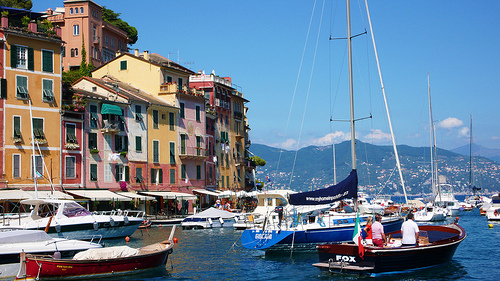 Liguria is one of the smallest regions in Italy, but it packs a serious punch. Well known as a serious resort area throughout Italy, it is not often found on the tours for visitors. Yet, if you plan to luxuriate in Italy and the Italians do, you absolutely must add Liguria to your itinerary – even if it is just a quick stop between other destinations.
The capital city of Liguria is Genoa, birthplace of Christopher Columbus and a thriving seaport still today. The send-off point for raucous sailors, Genoa is one of the largest shipping centers in Italy, but the city, and indeed the region, has much more to offer.
Visiting Genoa
When visiting the city of Genoa in Liguria, visit the home of Christopher Columbus. You'll find it beside the 12th-century cloisters of Sant'Andrea. When you've visited both the church and the old home, stroll through the narrow streets as the hills climb and beautiful buildings press around you. Via Garibaldi and the Royal Palace offer you beautiful examples of European architecture and a dazzling collection of art. The elegance of the buildings themselves can rival the most exquisite artwork.
The Beach Resorts of Liguria
The beaches of Liguria are beautiful with aquamarine water stretching out from white sand beaches. Resorts have sprung up along the coastline and a drive from one area of Italy to another will take you through tunnel after tunnel as you catch glimpses of these resorts. While new resorts such as Cinqueterre are drawing tourists from around the world, the area has been a vacation destination for Italians for hundreds of years.
The coastline of Liguria is shaped like a crescent and the natives have named both the upper and lower parts of the crescent. The "top" of the crescent is called La Riviera di Ponente, and the lower half stretching beyond Genoa is La Riviera di Levante. While there are many resorts along this boomerang-shaped coastline, not all areas of the beach are developed.
Some stretches of road take you through resort areas, but other areas of the road pass through deserted beachfront land thick with lemon trees, almonds and pines. The heady fragrance of the woods combines with the beautiful blue waters to your side and makes you wonder why anyone would dare miss this enchanting part of Italy.