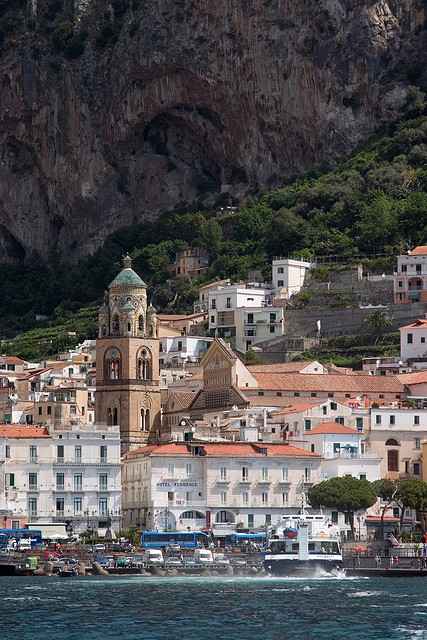 Romance, beauty and luxury all surround the Amalfi Coast. This area of Italy is one of the most prestigious and glamorous as well as expensive to visit. Of course, visitors who do decide to journey and stay along the Amalfi Coast are rewarded with sensational views and experiences unlike anything else they will find in Italy.
Capri
The island of Capri is famous for many things, but in particular the beauty of the Blue Grotto. This small island is easily reached by ferry from Sorrento or other towns and once you arrive, busses transport visitors between the two cities on the island. Shops, beaches and beauty surround you as you explore what the island has to offer.
Sorrento
One of the most popular of the cities along the Amalfi Coast, Sorrento is a collection of brightly colored boxes stacked along the cliffs, dazzling in the sun. Sorrento makes an excellent starting point for visiting the rest of the coast including other major cities and the ruins of old towns like Campania.
Amalfi
Once one of the most powerful cities in Italy, this former sea republic is now a peaceful stop along the coast. It' perfect for a seaside lunch or a stay overnight in a less crowded resort environment. History buffs will enjoy the museums and monuments throughout the city as well as they look for signs of the old powerhouse among the new trappings of success.
Praiano
If you like room to explore and stretch out, Praiano is another resort town on the cliffs, but it is more spacious than the other, more luxurious towns and there is more history and less luxury in the city as well. Explore not only the cliffs and restaurants, but stay in a more affordable resort and enjoy ancient wonders like the relics of Saint Luke in Chiesa di San Luca Evangelista, the church in the city.
Positano
This town was once a remote village of fishermen and now it's a popular resort town. The water is stunning and the views from hotels and resorts are truly amazing. The town itself is built into the walls of a cliff along a steep incline, but wandering streets and staircases make it easy to navigate the town and resort restaurants as well as galleries and other amenities offered by a resort town.