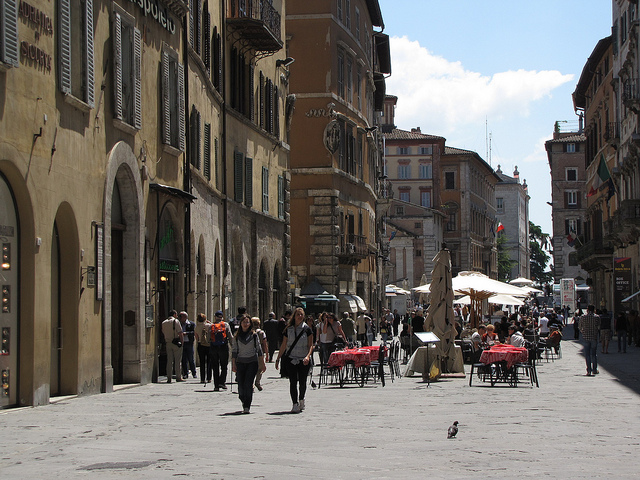 If you've had your fill of the major Italian cities (is it even possible?), take a day or two in a smaller town to experience what some of the other areas of Italy have to offer. In Perugia, you'll find a walled hill town complete with two universities, interesting people and opportunities to see ruins and high fashion in one place.
Reaching Perugia
Located in Umbria, Perugia is right in the heart of Italy, in the center of many other hill towns. This makes it an ideal place to start exploring the city and the many that are just a short drive away. Take the train into the city and you don't have any need to rent a car. There is a nice bus system in the city as well as the minimetro, an above-ground metro line to use around the city.
Exploring Perugia
Once you're in the city, there is a great deal to enjoy right away. Check into the Chocohotel and you can enjoy a menu that is entirely comprised of chocolate. Or stay in a smaller inn and simply make a point of stopping by the restaurant for a snack or sweet treat and coffee. Perugia is famous for chocolate and if you time your visit carefully, you can enjoy the annual chocolate festival in the middle of October.
There is much to do in the summer months as well when the city plays host to the Umbria Jazz Festival for two weeks in July and then the classical music performances in August. Those performances take place in the many churches and other historical relics throughout the city and region.
Regardless of the timing of your visit, you can wander through the narrow streets of this walled village to explore the walled city and appreciate the lifestyle of the Italians living here. During your walks you may find the Piazza IV Novembre in the heart of Perugia. This square is found dead in the center of town and is presided over by a large fountain, the Fontana Maggiore. The square is also home to many medieval buildings where you can shop and explore while appreciating the ancient architecture.
You can continue your shopping and exploring along Corso Vannucci, a street lined with wonderful bars, shops and eateries. As cars are blocked along the street, this is a great place for stroll and window shopping. As you finish your wanderings at the city's gates and walls, you'll be able to experience some of the Etruscan treasures the city offers as well including the massive wall itself.